Redmond hopes to see young pitchers in final stretch
Redmond hopes to see young pitchers in final stretch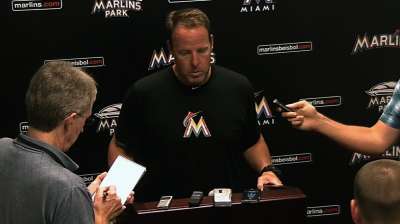 PHILADELPHIA -- The Marlins have not officially announced their rotation through the rest of the week, but after Brian Flynn's start on Tuesday, the rotation -- jokingly written in pencil, according to manager Mike Redmond -- should go: Nathan Eovaldi on Wednesday and Henderson Alvarez on Thursday in Washington.
Eovaldi was scratched from his start last Thursday against Atlanta with a tight back,
"We're still Eovaldi set to go on Wednesday and Alvarez will throw after that," Redmond said. "We still have some spots where we could push a couple guys back, and I think we'll play that by ear. We have so many pitchers that we still want to see pitch, and it's a challenge, but it's a good challenge."
Eovaldi is 3-6 with a 3.80 ERA in 15 starts. Even with National League Rookie of the Year candidate Jose Fernandez shut down after clearing the 170-innings plateau, the Marlins have young arms like Eovaldi, Jacob Turner and Alvarez to see pitch with an eye on next season.
"Turner, Alvarez and those guys, we still want them to pitch," Redmond said. "The others we're playing by ear."
Mike Radano is a contributor to MLB.com. This story was not subject to the approval of Major League Baseball or its clubs.