Gyorko expecting big turnout in return to home turf
Gyorko expecting big turnout in return to home turf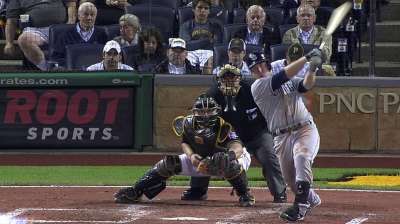 PITTSBURGH -- Morgantown, W.Va., native and former West Virginia University star Jedd Gyorko is enjoying a strong rookie season with the Padres, and the Mountain State is expected to turn out in big numbers to support him this week at PNC Park.
As many as 1,400 may make the trip to Pittsburgh over the course of the four-game series with the Pirates.
Gyorko had 106 hits, including 18 home runs, and 47 RBIs entering Monday. He hit .404 in three seasons with the Mountaineers and is a legend in Morgantown baseball circles.
"It's going to be interesting to see how many show up," Gyorko said. "Morgantown is home for me and we're like all one big family, so when something like this happens, they definitely gather and give me a lot of support."
Playing the Pirates in Pittsburgh will be a memorable experience for the University High graduate.
"It's going to be exciting to walk out there at PNC Park and play," Gyorko said. "When I was young, this is where I would come up and watch some games when they first built it. I was excited to come up here and watch games, so it's definitely going to be fun and exciting to play here.
"Yes, I was a Pirates fan growing up. But the day that the Padres drafted me, I pushed the Pirates off to the side. It's good to see them doing so well and I wish them well, but I want to beat them every time we play them."
Padres manager Bud Black was pleased to hear that fans are turning out for Gyorko.
"Isn't that great?" Black said. "Are they all going to be wearing Gyorko jerseys or T-shirts or Padre gear? I think that's great. I asked Jedd a couple of days ago what he was expecting. Usually you hear 20 or 30 [people] and he said, 'Well, maybe 1,500,' and I said, 'What?' We'll see how that plays out."
George Von Benko is a contributor to MLB.com. This story was not subject to the approval of Major League Baseball or its clubs.