Petricka having success attacking hitters
Petricka having success attacking hitters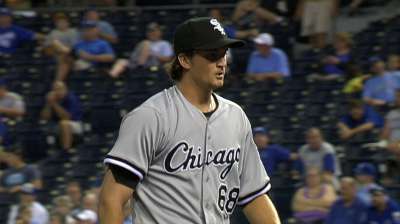 CHICAGO -- Jake Petricka has been a bright spot in a White Sox bullpen that has struggled in September. While the relief corps had posted a 4.85 ERA for the month going into Monday's series opener against the Twins, Petricka hadn't allowed a run in nine innings over six appearances.
Overall, Petricka had posted a 1.32 ERA (two earned runs in 13 2/3 innings) since being called up from Triple-A Charlotte on Aug. 17 and making his big league debut on Aug. 22.
The right-hander said the key for him has been continuing to do what got him to the Majors.
"I'm just doing the same thing I did down in the Minors," Petricka said. "I'm just attacking hitters, throwing as many strikes as I can, and trying to keep them off balance with a mix."
Petricka added that while there is a learning curve in coming to the big leagues from Triple-A, the important thing is to not waver from a successful approach.
"There definitely was a learning curve," he said. "They definitely hit mistakes a lot harder [in the big leagues]. It's just a matter of limiting those mistakes. You've just got to keep your same approach and if you make your pitch, you can get hitters out. You can't let them dictate what you do."
Petricka said that while it's been a rough season on the South Side, he's excited to have the opportunity to end the 2013 campaign in the Majors.
"I'm still excited for this season because I'm still learning a lot," he said. "I'll look forward to next season when the offseason starts again."
Manny Randhawa is an associate reporter for MLB.com. This story was not subject to the approval of Major League Baseball or its clubs.