Masterson building toward bullpen session
Masterson building toward bullpen session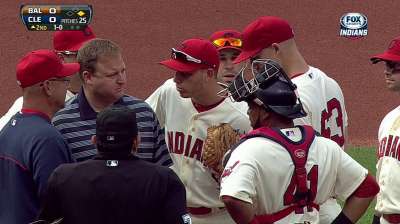 KANSAS CITY -- The Indians continue to hold out hope that injured starter Justin Masterson might be available to pitch before the end of the regular season.
Cleveland just is not sure whether that that will be out of the rotation or bullpen. Manager Terry Francona said that decision will be saved for another day.
"What we'd like to do is have him be healthy," Francona said before Monday night's game with the Royals, "and then figure out how to best use him as a weapon."
Masterson, who has been shelved with a strained left oblique sustained in a Sept. 2 start, played catch up to a distance of 110 feet on Monday at Kauffman Stadium. Barring any setbacks, Francona said the right-hander might be cleared to throw off a mound in a bullpen session on Friday back home in Cleveland.
Francona called that the "best-case scenario" for Masterson.
The manager praised the pitcher's effort to return in time to help the club's push toward a possible postseason berth.
"He actually beat me to the ballpark today," Francona said. "That's a guy that's trying. That makes you feel good. He's logged a lot of innings. He's a leader for a reason. To see him try so hard to come back, that part is even uplifting."
In 29 starts, the 28-year-old Masterson is 14-10 with a 3.52 ERA and 188 strikeouts in 189 1/3 innings. The sinkerballer went 4-2 with a 2.87 ERA in the nine outings leading up to his ill-fated matchup with Baltimore, which sent just five batters to the plate before Masterson left with the injury.
Francona said the club would consider bringing Masterson back as a reliever simply due to the fact that he will not be stretched out enough to handle a full workload.
"We'll figure out what is best to our advantage," Francona said. "Obviously, you don't just take a guy and pitch him nine innings. But, do you start him for two or three or four? Or do you bring him out of the bullpen?"
In 2008, Masterson pitched out of the bullpen for Francona's Red Sox, turning in a 2.36 ERA in 27 relief appearances in the regular season and a 1.86 ERA in nine postseason games.
"Yeah, he did OK," Francona said with a smirk.
Jordan Bastian is a reporter for MLB.com. Read his blog, Major League Bastian, and follow him on Twitter @MLBastian. This story was not subject to the approval of Major League Baseball or its clubs.