Kemp K's to end game in first at-bat off DL
Kemp K's to end game in first at-bat off DL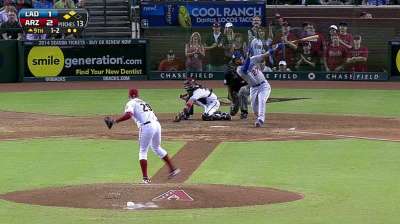 PHOENIX -- The Dodgers will take what they can get from Matt Kemp, and at the end of the day Monday, it was a game-ending strikeout in a 2-1 loss to Arizona.
Kemp struck out pinch-hitting for Hyun-Jin Ryu in the ninth inning with runners on second and third, his first game appearance since suffering a badly sprained left ankle July 21, compounded by a strained right hamstring muscle while rehabbing.
"It's been a nightmare," Kemp said.
He was activated before the game and after some tentative baserunning in pregame drills left manager Don Mattingly no choice but to reduce Kemp's role to pinch-hitting until he shows his legs (and confidence in them) are back.
Mattingly said the situation was right to use Kemp.
"He's been swinging the bat good and I have no real concern about using him there," said Mattingly.
"It felt good to finally compete," said Kemp. "Felt good to have the adrenaline rush and get the first at-bat out of the way. It didn't turn out quite the way I wanted but it is what it is."
Kemp is aware Mattingly thinks he may be reluctant to go full speed.
"Anybody would.You pull a hamstring a couple of times," said Kemp, who missed 24 games earlier in the year with the same injury. "I've just got to get as many at-bats as I can and get back in games and see where it takes me."
As for his one appearance Monday against Arizona closer Brad Ziegler, he said, "I swung at a pitch I shouldn't have swung at. The first two felt really good, but I just swung at a bad [1-2] pitch. He got me."
Kemp missed 86 of the Dodgers' first 149 games.
Ken Gurnick is a reporter for MLB.com. This story was not subject to the approval of Major League Baseball or its clubs.