Sandberg focused on strong finish, not next season
Sandberg focused on strong finish, not next season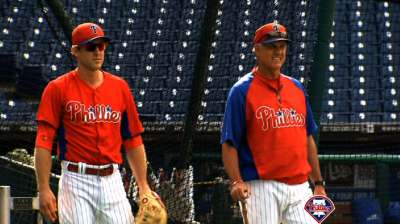 PHILADELPHIA -- The smart bet remains the same: Ryne Sandberg will be Phillies manager next season.
Of course, nothing has been finalized and anything could happen in the coming weeks, but Sandberg reiterated Monday afternoon at Citizens Bank Park he has no expectations regarding a decision from the front office.
"There hasn't been any indication or any word or anything," Sandberg said before the Phillies' series opener against the Marlins. "No, I'm just focused on what I'm doing here and the games to be played, getting the players in there as much as I can, making up a lineup to win a baseball game. I want to win as many games as we can, finish strong, finish on a positive note, a good note, all those things."
The Phillies are 16-13 since Sandberg replaced Charlie Manuel on Aug. 16. Reviews from players inside the clubhouse and around the organization have been positive.
If Sandberg lands the job, he might have decisions to make regarding the coaching staff. Asked if he is evaluating the coaching staff in the event he might get the job, he said, "No, I'm not doing that at all. I'm just taking it a game at a time, and focused on the game and the season at hand here. That's not part of what I'm doing right now."
Todd Zolecki is a reporter for MLB.com. This story was not subject to the approval of Major League Baseball or its clubs.