Indians can't make move in Wild Card chase
Indians can't make move in Wild Card chase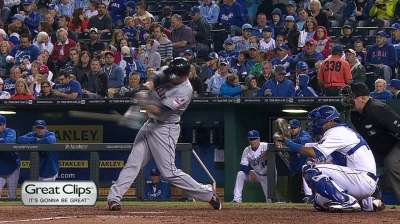 KANSAS CITY -- Scott Kazmir stood in the infield with his hands on his head, eyes wide and mouth agape. The Indians' left-hander stared in disbelief after Royals catcher Salvador Perez was ruled safe on a leadoff triple in the sixth inning on Monday night.
"That changed the game," Kazmir said.
On this evening, that was the beginning of the Tribe's unraveling.
In the opener of a critical three-game series, Perez's triple ignited a three-run outburst that sent the Royals on their way to a 7-1 rout at Kauffman Stadium. Kazmir was solid enough on the mound, but James Shields and Kansas City's pitching staff were overpowering in dealing the Indians a lopsided loss.
Cleveland missed chances on the field, but also missed an opportunity to move up in the standings.
After the sloppy loss, the Indians (81-69) remained a half-game back of a Wild Card spot, thanks to Texas' loss to Tampa Bay, which holds a one-game lead on the Rangers for the AL's top Wild Card position. Led by Shields, Kansas City moved to 2 1/2 back of Texas, which has dropped seven straight games to lose what once appeared to be a firm grasp on a playoff berth.
The Orioles and Yankees -- also very much in the Wild Card mix -- were idle on Monday.
There was a stretch of time, while fleeting, in which the Indians were tied with the Rangers for the American League's second Wild Card spot on Monday night. The moment officially passed for the Tribe when it limped to the loss column.
"I don't know if we can win every game," manager Terry Francona said. "I think we'd like to, but sometimes you're going to get beat."
The Indians got the full picture on Monday as to why the Royals remain very much in contention.
Shields struck out a season-high 10 batters to help Kansas City set a nine-inning franchise record with 17 strikeouts, which also equaled Cleveland's nine-inning club record for strikeouts by its offense.
"I think winning the first game of the series is big," Shields said. "Obviously, we still want to win series. Every game is important. This is what we live for. This is what you play for. September baseball. Hopefully, we get a shot to go to the playoffs."
The Royals also showed off their speed, taking three bases (via two fly balls and a wild pitch), advancing from first-to-third base three times, reaching twice on errors, collecting two triples, stealing one base and notching an infield hit.
"They give themselves opportunities," Indians designated hitter Jason Giambi said. "With their starting pitching and bullpen, you're going to win a lot of games doing that. They put it on us tonight. You take your cap off. They played great baseball."
Shields (12-9) defeated the Indians for the second straight start, scattering six hits in six innings. Cleveland's lone breakthrough came in the fifth inning, when Lonnie Chisenhall launched a leadoff home run -- the third baseman's 11th of the season.
That was hardly enough.
"I thought he was really good tonight," Francona said of Shields. "He always has that offspeed kind of in his back pocket. He'll get a roll-over, but we had a lot of strikeouts. Some looking. Some swinging. That means, he's staying out of the middle."
Kazmir (8-9) flashed a strong fastball and finished with six strikeouts in five-plus frames, but Kansas City tagged the lefty for two runs by the third inning and pulled away in the sixth. Kazmir was hung with four runs and the Indians' bullpen surrendered three, helping the Royals improve to 15-7, dating to Aug. 26.
The turning point came when Perez laced a pitch from Kazmir to the wall in left-center to open the sixth inning.
Kazmir yelled for his outfielders to hurry as Kansas City's catcher sprinted around the bases. Chisenhall appeared to receive the relay throw in time, and the third baseman applied a tag as Perez slid into the bag. Third-base umpire Bill Welke wasted no time in calling Perez safe, prompting Kazmir to react in disbelief and Francona to emerge from the visiting dugout to argue.
In the wake of the loss, Francona was asked if he felt Perez was out.
"Yeah," the manager replied matter-of-factly.
Kazmir would not go down the same road with his response to the same question.
"I don't want to get into that," he said. "I just go out there and pitch."
Cain followed with a triple, putting the Indians in a 3-1 hole and forcing Kazmir from the ballgame. Later in the inning, shortstop Asdrubal Cabrera (throwing) and Chisenhall (fielding) each made an error on ground balls that helped Kansas City break the game open.
For Kazmir, everything stemmed from the inning-opening play at third base.
"I felt like, for the most part, I was making my pitches," Kazmir said. "I just got to the sixth inning and ended up giving up the leadoff triple, which was a huge momentum shifter right there."
Jordan Bastian is a reporter for MLB.com. Read his blog, Major League Bastian, and follow him on Twitter @MLBastian. This story was not subject to the approval of Major League Baseball or its clubs.