Hendriks' night in Chicago ends early
Hendriks' night in Chicago ends early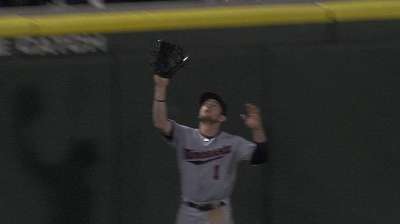 CHICAGO -- Coming off playing the contending A's and Rays at home, the Twins were hoping to get a reprieve against the last-place White Sox on Monday night.
Instead, the Twins' recent struggles continued in a blowout defeat at U.S. Cellular Field.
Liam Hendriks turned in the worst outing by a Twins pitcher this season, as he gave up seven runs in the first inning in a 12-1 loss to the White Sox. The Twins have lost five of their last six games, and they've been outscored, 52-12, in those contests.
Hendriks recorded just two outs, allowing seven runs on five hits and three walks while throwing 41 pitches. It marked the first time the Twins gave up seven runs in a first inning since July 28, 1997, against the Royals.
"It's embarrassing," Hendriks said. "It's the only way to put it. It's embarrassing, disappointing. I just don't know what else to say about that one."
The first four batters to face Hendriks all reached, with Conor Gillaspie and Paul Konerko both lacing RBI singles. Adam Dunn made the first out on a deep drive to left-center field with Alex Presley making a leaping catch at the wall to deny Dunn of extra bases.
Dayan Viciedo followed with an RBI single before Jordan Danks walked to load the bases. Gordon Beckham then added a run-scoring single to center before Alejandra De Aza drew a two-out walk to bring home the fifth run.
The Twins lifted Hendriks after the walk in favor of right-hander Michael Tonkin. But Tonkin gave up a two-run single to right field to Alexei Ramirez to give Chicago its first seven-run first inning since April 21, 2002.
"He didn't really use his breaking ball much," Twins manager Ron Gardenhire said of Hendriks. "He wasn't locating, at all. He was misfiring the ball over the place. It was just a bad start by him. They put up a touchdown in the first inning and there you go."
Gardenhire said he hasn't determined whether Hendriks will make another start this year, but the right-hander was hopeful he'll get another chance.
"I'd like to go back out there," Hendriks said. "That's not me. I'm better than that. I want to prove to everyone I'm better than that and hopefully my next outing is better and I'll be able to fix it and throw a quality start."
Right-hander Cole De Vries pitched in long relief of Hendriks, going five innings, but he served up three homers. He gave up back-to-back solo blasts to Dunn and Viciedo in the fourth before allowing a two-run blast to Danks in the sixth.
"Cole came in and did a decent job," Gardenhire said. "He ate up some innings. We needed that desperately."
Ramirez capped the scoring for Chicago with a solo blast in the seventh off reliever Caleb Thielbar. Ramirez went 4-for-4 with three RBIs and finished a triple short of the cycle.
The offensive explosion by the White Sox, who entered with six straight losses, backed right-hander Erik Johnson, who tossed six scoreless innings to pick up his first Major League win. Johnson, making his third career start, gave up just four hits and walked two while striking out eight.
"It's definitely one to remember," Johnson said. "It's one under your belt, so now you can take a deep breath and go back to work. It's nice to have that run support in the first inning."
The Twins had a few scoring chances but went 1-for-7 with runners in scoring position, including a failed scoring chance in the sixth, when they loaded the bases with two outs and Josmil Pinto struck out to end the inning.
Pedro Florimon was also ejected by home-plate umpire Alfonso Marquez after the seventh inning, as he struck out looking in the top of the inning and made a comment about the called strike as he came off the field from his shortstop position.
"I was surprised," Florimon said. "I don't know why he ejected me. I was running to the dugout and I said in Spanish that I was going to look at the video and see if it was a strike. So I came back in [the clubhouse] and looked at the video, and came back outside and Gardy told me he threw me out."
Chris Parmelee kept the White Sox from getting the shutout with an RBI single in the eighth inning off reliever Daniel Webb.
"We got behind so quick we couldn't do anything," Gardenhire said. "They swung the bats really well and put some in the seats. Every bad pitch we made, they whacked it."
Rhett Bollinger is a reporter for MLB.com. Read his blog, Bollinger Beat, and follow him on Twitter @RhettBollinger. This story was not subject to the approval of Major League Baseball or its clubs.