Held to one hit in loss, Pirates remain tied for first
Held to one hit in loss, Pirates remain tied for first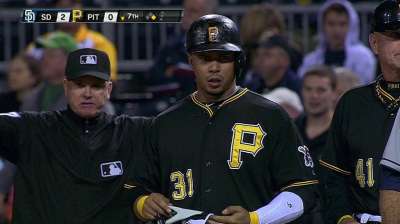 PITTSBURGH -- The Pirates ran into a double-sided case of role reversal Monday night, and did not like either side: Wearing bull's-eyes to a late-season game, and also being targeted for a potential no-hitter.
For the second straight game, a pitcher with his spikes dug into the PNC Park mound carried a no-hitter into the seventh inning, and Andrew Cashner's outcome was the same as it had been for Francisco Liriano the day before:
He did not get the no-no, but his team got the game, as the Padres edged the Bucs, 2-0, with Cashner brilliantly outdueling A.J. Burnett with his one-hitter.
"He pitched pretty well," Burnett deadpanned about his 27-year-old adversary. "He faced [the minimum] 27 guys ... that's pretty good. He came out and set the tone, and never took his foot off the pedal the whole time."
The loss temporarily dropped the Bucs out of a first-place tie with the Cardinals in the National League Central. Later Monday night, the Cards lost to the Rockies, 6-2, so the Bucs and Cards remain tied atop the NL Central.
Cashner's perfect game was broken up by Jose Tabata's leadoff single in the seventh. Andrew McCutchen eventually erased Tabata on an inning-ending double play, meaning Cashner finished the game -- his first complete game in 31 career starts -- having faced the minimum 27 batters.
"That was a spot in the game where I was behind Tabata," said Cashner, recalling the 2-1 fastball to the Pittsburgh left fielder. "I didn't want to get beat with my slider there and I still think it's a great pitch and I still think it's the right pitch, that's just the way it goes."
The spoiler's shoe is on the other foot. In September, the Pirates have been the hunters for 20 years. Now, they are the hunted. They are the ones for whom also-rans find another gear.
Bud Black's Padres found the gear they usually go to in Pittsburgh. The win improved San Diego's all-time record at PNC Park to 29-10.
"Some of these teams not playing for very much ... their guys are still playing for something," Neil Walker said, "To win spots for next year, or to impress somebody. We've run into some pretty good pitching lately. Fortunately, we've been able to counter that with our own good pitching."
Their own good pitching has enabled the Pirates to win three of the first five games on the homestand, even though they have scored a total of 12 runs in the five games. But to win Monday, they would have needed Burnett to allow negative runs.
"A.J. threw punches all night long," manager Clint Hurdle said. "He pitched a heck of a game himself. But [Cashner] ... he's a good, good young pitcher. A power arm. Not only was the stuff sharp, he was very efficient, throwing strikes all night long."
Through six innings, Cashner was merely involved in a double shutout. His gem officially became a potential no-hitter in the top of the seventh, when Will Venable's sacrifice fly to medium-deep center scored Ronny Cedeno, the former Pirates shortstop who had begun the inning with a single. Rene Rivera followed with another single, and Cedeno moved to third when Cashner bunted into a force to bring up Venable.
Not done there, the Padres made it 2-0 when Jedd Gyorko chased Burnett with an RBI single.
"Once he got into the fifth inning, and the way Cashner was throwing and where his pitch count was, and the look in his eye, everything was set up for a real good game," Black said. "Burnett was throwing really well too. Then when [Cashner] got through the sixth inning, I'm thinking nine more outs and then we got a couple runs and I'm thinking, 'OK, here we go, here's a real opportunity.'"
Until then, the game had a mystical quality -- a pair of No. 34's battling tooth, nail and curve as the Pirates tried to sustain their momentum toward what they hope will be their first NL pennant in 34 years.
Cashner's dominance was far cleaner. While he kept the bases clear, Burnett had them clogged -- allowing eight baserunners before Cashner permitted his one and only.
"The guy threw all three of his pitches for strikes on both sides of the plate and, more importantly, they were down," said Walker, pretty much describing a hitter's worst nightmare. "He was good. Games like this happen. Unfortunately, it happened tonight to us."
Cashner required a total of only 97 pitches -- fewer than 11 an inning -- to finish the game.
Burnett had to twice wriggle out of jams with men on second and third and two outs, both times using Kyle Blanks as his means of escape. The first was in the fourth, when he fanned Blanks. The second came two innings later, when he stabbed Blanks' hard comebacker to nail him at first base.
Revisiting his chronic issues with run support, Burnett got no satisfaction out of having pitched six-hit ball for 6 2/3 innings, allowing two runs while walking three and striking out eight.
"It's always a good time when you can go out there and compete," said Burnett, dismissing San Diego's incoming 68-80 record as something that made the outcome more disappointing. "Struggling or not, that's a big league lineup."
Tom Singer is a reporter for MLB.com and writes an MLBlog Change for a Nickel. He can also be found on Twitter @Tom_Singer. This story was not subject to the approval of Major League Baseball or its clubs.