Helton's last homestand kicks off with a Rockies win
Helton's last homestand kicks off with a Rockies win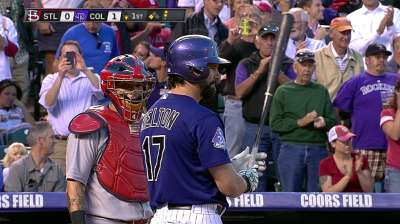 DENVER -- The standings say the Rockies played spoiler on Monday night when Wilin Rosario's one-out single in the eighth sparked a four-run rally and lifted them to a 6-2 victory over the Cardinals at Coors Field in front of 31,117.
But even though the Cardinals lost a chance to break a tie with the Pirates atop the National League Central, this was the Rockies' party. It was the beginning of the final homestand for Todd Helton, who has been a fixture the last 17 seasons. Fans provided a warm, standing ovation when Helton came to the plate in the first inning.
"You've got to check your pulse if you don't get goosebumps when you hear the crowd cheer like it did when Todd came up that first at-bat," said Charlie Blackmon, who had three hits and two RBIs. "I was thinking, 'Man, it would be really nice if Todd came up and hit a homer in that first at-bat."
It wasn't quite that storybook of a night, but it was a nice ending for the Rockies (69-82), who are last place in the NL West. Helton's one-out single through the middle of the infield was part of the big eighth inning, as Rosario followed with an RBI single off Trevor Rosenthal (2-4) to break a 2-2 tie.
"It's part of the game -- you're going to make great pitches and they're going to be hits, and you're going to make terrible pitches and they're going to strike out," Rosenthal said. "But I felt good and felt like the rest of the team did a really good job. So you just walk away with the positives."
Rosario limped at the end of his single and left the game for a pinch-runner. But besides Rosario and rookie third baseman Nolan Arenado, who left in the top of the third with a recurring right thumb injury, the Rockies felt nothing but inspiration. The players attended an emotional press conference in a Coors Field suite earlier in the day.
"It was a good atmosphere," said Matt Belisle, a close friend of Helton's and a right-handed reliever who had given up 10 runs (eight earned) in his last six games but had a clean seventh inning on Monday. "It may be something that got into everybody's personal side, their heart.
"I'm not saying I can speak for everybody. But when you have a guy of Todd's caliber, who talked about how to play the game the right way, how he had no regrets of how he played, there's no question it fires you up. Every opponent is formidable, but the Cardinals are a great team, and we knew we had to get it done."
Blackmon drove in his second run of the game on a double two batters after Rosario's single -- following Helton getting tagged out at the plate on Josh Rutledge's bouncer for the second out. And pinch-hitter Ryan Wheeler drove in two runs with a single off John Axford.
"I know that we're out of it, but every game now is for pride," Wheeler said. "I know a lot of guys over there from coming up and playing against them. So it's extra bragging rights. That means a lot, too."
Right-hander Collin McHugh, in his second Rockies start and first since July 27, held the Cards to one run and four hits in five efficient innings, as he threw only 72 pitches. McHugh found out three days ago he'd be pitching on Monday. It was a spot-start, because 16-game winner Jorge De La Rosa is dealing with a bruised left thumb, plus other issues on his pitching hand.
"There was a little rust, definitely some breaking balls I'd like to have back, but other than that I was pleased," McHugh said.
Lefty Drew Pomeranz, making his first appearance since July 22 before being diagnosed with a right shoulder injury, gave up a hit, but forced a double-play grounder in the sixth, and Belisle rebounded from some of his recent bad outings in the seventh.
The Cards tied it in the eighth on Matt Carpenter's RBI double off Chad Bettis (1-3), who earned his first Major Leauge win. The rookie made eight starts this season before moving to the bullpen three appearances ago.
The Rockies scored two runs in 6 1/3 innings off Cardinals starter Lance Lynn, who struck out four and gave up six hits and one walk.
"We haven't won a lot of games, especially on the road, the last month or so, but it hasn't been for lack of effort," Rockies manager Walt Weiss said. "There was a lot of good stuff."
Thomas Harding is a reporter for MLB.com. Read his blog, Hardball in the Rockies, and follow him on Twitter @harding_at_mlb. This story was not subject to the approval of Major League Baseball or its clubs.