Lynn solid, but Cardinals can't gain ground in Central
Lynn solid, but Cardinals can't gain ground in Central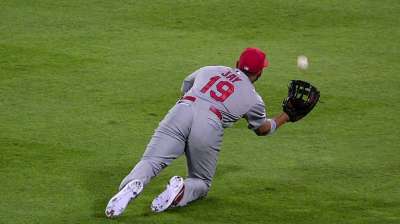 DENVER -- An inexperienced starter on the mound for the opposing team, and the Pirates losing earlier in the night at home, Monday night's game against the Rockies appeared to be a golden opportunity for the Cardinals to take sole possession of first place in the National League Central.
But an effective start from Lance Lynn wasn't enough, as the St. Louis bullpen surrendered four eighth-inning runs in a 6-2 loss to the Rockies at Coors Field.
The game was tied at 2 going into the bottom of the eighth, when Trevor Rosenthal (2-4) walked Troy Tulowitzki before Todd Helton and Wilin Rosario ripped back-to-back singles, with Rosario's scoring Tulowitzki from third. Charlie Blackmon followed with a two-out double to make it 4-2, and pinch-hitter Ryan Wheeler's single to left got the total damage in the inning to four runs.
"They've been real good all season," Cardinals manager Mike Matheny said of his bullpen, which gave up six hits and a walk in 1 2/3 innings. "You're going to have those days. You put yourself in a tough spot in a tight game in this park and you give bases up. That usually comes back and gets you."
All four runs fell on Rosenthal -- his streak of 11 straight games (11 2/3 innings) without allowing a run coming to an abrupt end.
The loss kept the Cardinals tied with the Pirates, who lost to the Padres on Monday night, for first place in the National League Central. It was St. Louis' third loss in five games.
The club's primary focus is taking the division, because the new challenges and pressures that arrive with October are still a step away. But a roster full of postseason veterans can help turn nerves into excitement, Rosenthal said.
"We know that it's not going to come easy, that there's a lot of work ahead. And even as we get toward the end of the month, it's never guaranteed and it's never automatic," Rosenthal said.
Before the bullpen collapse, it appeared momentum had gone the Cardinals' way when Matt Carpenter hit a game-tying double -- his MLB-best 51st two-bagger this year -- in the eighth. But the tie didn't even last until the end of the inning.
After allowing a run in the first, Lynn tossed five shutout innings before he found trouble in the seventh. He surrendered consecutive singles to Rosario and Josh Rutledge before manager Mike Matheny pulled him in place of left-hander Kevin Siegrist.
But Siegrist made a bad situation worse, allowing Blackmon to give the Rockies a lead on a single to shallow left. Despite loading the bases with two outs, Siegrest made it through the seventh without further trouble.
"There were a couple balls that were left a little bit over the plate and I gave up a few hits, but when it's all said and done we got to win," Lynn said. "It's that time of year where it doesn't matter if you pitch good or bad. As long as you win, that's all that matters."
In his second career start at Coors Field, Lynn looked much better than a back-end starter, giving up two runs on six hits and a walk in 6 1/3 innings, striking out four. Though he couldn't earn his first win since Aug. 4, Lynn finally felt in tune on the mound.
Fighting to stay in the rotation as recently as Wednesday, he aced a major test at Coors Field.
"Everything felt good before, but now I'm able to establish what I'm trying to do earlier and then get in that rhythm of what I'm about -- attacking hitters and getting right after them and I've been able to do that lately."
Even against Rockies starter Collin McHugh, who hadn't pitched in a big league game since July 22, the Cardinals' offense scuffled. They managed only four hits in the first five innings, including an RBI single by David Freese in the fifth.
Freese's single scored Matt Adams, who led off the inning with a double. Before the fifth, St. Louis totaled just two singles, with neither runner advancing past first.
"There was a little rust," McHugh said, "definitely some breaking balls I'd like to have back. But other than that I was pleased."
Though Lynn turned in his second straight quality start, his outing didn't start so smoothly. He walked Corey Dickerson, the first batter of the game, and Tulowitzki doubled to left-center to score him for Colorado's first run.
"I think even in the first, he gets a walk, double, run scores, could easily have lost some focus there," Matheny said. "But continued to make good pitches and did a real nice job."
Ian McCue is an associate reporter for MLB.com. This story was not subject to the approval of Major League Baseball or its clubs.