Lynn's next test comes in Colorado
Lynn's next test comes in Colorado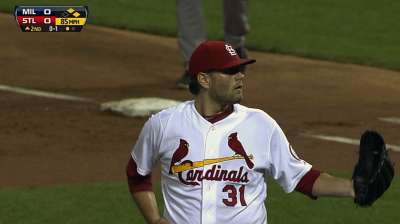 DENVER -- Before his last start, Cardinals starter Lance Lynn knew his future in the starting rotation might be hanging in the balance.
And Lynn pitched like we was in exactly that spot, allowing just one unearned run and five hits over six innings, striking out 10 and walking two in a 5-1 win over the Brewers. It was enough to at least assure him another start and possibly more, but Cardinals manager Mike Matheny also viewed it as a building block for the future.
Unlike Lynn's last start, however, Monday's came away from the comforts of Busch Stadium, at hitter's friendly Coors Field. It wasn't only a second test, but also a more challenging one for a pitcher who's struggled on the road.
He passed the test, giving up two runs on six hits and a walk in 6 1/3 innings with four strikeouts in the 6-2 loss to the Rockies.
"He's going to be in a situation where he's got some things to build on," Matheny said before the game. "But once again, we're not talking about major overhauls. It was more of an ability to hold his concentration. This could be a great test for him -- this is not your run-of-the-mill park."
Lynn was steady until mid-July, but he hasn't been the same since the All-Star break with a 4.48 ERA in 12 starts. Opposing batters are hitting .277 against him and Lynn is 2-6 over that stretch.
"So hopefully he's able to go out and make pitches and continue to make pitches regardless of circumstances," Matheny said. "I think that's … that next level. His stuff is there and he's just to be able to consistently come out there and figure out a way to get it done."
Ian McCue is an associate reporter for MLB.com. This story was not subject to the approval of Major League Baseball or its clubs.