Jay viewed as a second three-hole hitter
Jay viewed as a second three-hole hitter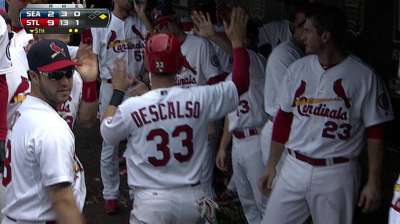 DENVER -- Jon Jay is a man of many roles.
The Cardinals center fielder has batted in eight of the nine batting positions this year, so it's understandable that Jay was slightly unsure of his exact role in this lineup. When Jay hit from the two-hole, he wasn't sure if he should approach the at-bat as a "table-setter" -- a player whose foremost job is to set up for the No. 3 batter.
So manager Mike Matheny found a creative way to explain the situation.
"The way I pictured him, when you're in the lineup and you're in the second batting position, I look at it as we have two three-hole hitters," Matheny said. "And that's the way I want you to go about your at-bat, as if you were a three-hole hitter."
While Jay can't match the offensive output of St. Louis' usual No. 3 batters -- Matt Holliday and Carlos Beltran -- he's had no trouble producing runs. Jay has 65 RBIs in 145 games after Monday's 6-2 loss in Colorado (when he hit second), and that is 25 more than his previous high of 40 set last season.
His numbers aren't lacking in the other categories, as he also has seven homers, 25 doubles and a pair of triples for a .265 batting average.
"He loves to be able to do things defensively to help the club, which he has been so consistent for us," Matheny said. "And offensively, I remember last year everybody was so concerned about his ability to drive in runs. You look at him now and that column's filling up. He's putting together the tough at-bats for us in big situations."
And though Jay's average has slipped from his first three years in the Majors, Matheny is confident he has the talent to keep up with the .305 average he finished with last year.
"Last year, being a .300 hitter, I believe that's the kind of hitter that he will be for the rest of his career," Matheny said.
Ian McCue is an associate reporter for MLB.com. This story was not subject to the approval of Major League Baseball or its clubs.