After strong start, Saunders falters in sixth
After strong start, Saunders falters in sixth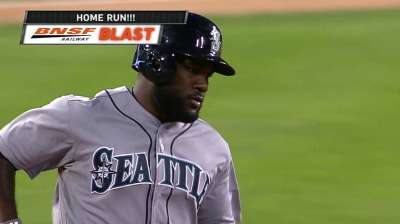 DETROIT -- Wins have been tough to come by for Joe Saunders and the Mariners of late, and that trend continued Monday as the Tigers pulled out a 4-2 victory despite a promising beginning for the southpaw.
Saunders was sailing along with a 1-1 tie with two out in the sixth before giving up two runs on a walk and three straight hits that ended his night when manager Eric Wedge pulled the plug after 83 pitches.
A frustrated Saunders sent a bucket of sunflower seeds flying in the dugout after being replaced by Tom Wilhelmsen, who got the final out of the sixth to keep the score at 3-1.
Tigers right fielder Torii Hunter, a former teammate of Saunders with the Angels, wasn't surprised by the outburst or the way Seattle's starter battled.
"He keeps the ball down," said Hunter, "and when you keep the ball down, you get a lot of ground balls. We call him Soggy Joe. When his hand starts sweating, his ball gets to moving everywhere. So he's a really good pitcher.
"He's a competitor. That's one thing I know about Saundo, man. He wants to beat everybody. Anything we do, whether it was a football game or horse racing, it didn't matter, he's a competitor. He wants to win, and you saw it today in the dugout."
Saunders declined to comment after the game, but Wedge said it was a matter of forcing the Tigers to bring in pinch-hitter Don Kelly against Wilhelmsen instead of leaving Saunders to face Matt Tuiasosopo.
"You want to give him every opportunity there because we felt he did throw the ball well," Wedge said. "But ultimately at that point in time, we figure they're probably going to pinch-hit for the right-hander there and we'd rather go to the guy off the bench than give that right-hander a chance."
Saunders, 32, fell to 11-15 with a 5.16 ERA as Seattle dipped to 66-84 with its seventh loss in the past eight days. Saunders is 1-5 with a 7.14 ERA over his past eight starts.
The Tigers, who sport the highest batting average in the Majors and are second to the Red Sox in runs scored, tacked on a run off Wilhelmsen in the seventh and improved their American League Central-leading record to 87-63.
Mariners right fielder Abraham Almonte continued his strong showing as a September callup as he ripped a solo home run with two out in the third off Rick Porcello.
Almonte, a speedy 24-year-old outfielder acquired from the Yankees for reliever Shawn Kelley this spring, went 2-for-4 on Monday and has hit .313 with two home runs and seven RBIs in 15 games. Almonte has recorded a hit in 12 of the 13 games in which he's had an at-bat.
"The ball jumps off his bat," Wedge said. "He's aggressive, he has some bat speed and some strength. He's a strong young man. He has a lot to offer. Here in the short term we probably won't get a chance to see the league make adjustments just because it is such a short period, but he's been impressive with this start."
But Almonte's shot was the only run allowed by Porcello in six innings as he improved to 13-8 while striking out 10 batters for just the second time in his career.
Raul Ibanez reached base three times, going 2-for-3 with a walk and a double, and scored on an RBI single by Justin Smoak in the eighth to cut the lead to 4-2. But the Mariners wound up 1-for-5 with runners in scoring position and stranded eight and have now scored two or less runs in six of their last eight games.
"It's never easy losing," said Smoak. "We feel like we've been in some tight ballgames and just haven't been able to get the big hit or the big shot in those situations. But we just have to keep working hard and get something good out of it."
Saunders gave up a run in the first on a pair of singles and a wild pitch that allowed Hunter to zip home from third. But after a leadoff double to Omar Infante in the second, the veteran tightened things up and faced the minimum number of batters from there until his ill-fated sixth.
Miguel Cabrera started the Tigers' knockout rally with a walk, Prince Fielder singled, Victor Martinez drove in Cabrera with a base hit and Infante ended Saunders' night with an RBI single to left.
"I thought Joe threw the ball well against a tough lineup," Wedge said. "He did a good job pitching inside and used his breaking ball a little more, mixed his changeup off his fastball. Even that final inning, he got two outs with nobody on.
"You don't mind him walking Cabrera, Fielder hit one off the end of the bat, Victor pushes one down the right-field line. They're professional hitters, some of the best professional hitters in the game. Then Infante gets a hit, so we've got to go to Tommy. But that was a good baseball game. We had our opportunities."
Greg Johns is a reporter for MLB.com. Follow him on Twitter @GregJohnsMLB as well as his Mariners Musings blog. This story was not subject to the approval of Major League Baseball or its clubs.