Rays down Rangers to take top Wild Card spot
Rays down Rangers to take top Wild Card spot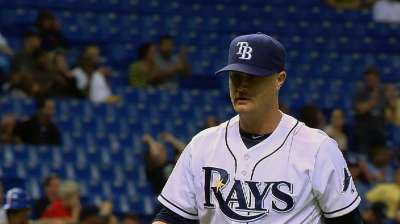 ST. PETERSBURG -- Something had to give in Monday's pivotal series opener between the current owners of American League Wild Card spots.
The Rays and Rangers had combined to lose 15 of their last 20 games, and prior to the fifth inning, neither would give in to dropping another. But Tampa Bay put up a four-run fifth and held on to beat Texas, 6-2, and take a one-game lead for the top Wild Card position.
The Rays batted around in the fifth for the first time since Aug. 20 and consequently ended Matt Garza's start with four consecutive one-out hits from the top of their order.
"[Garza] was on early," left fielder David DeJesus said. "We were able to string some hits together in that inning, and when you do that, it picks everyone up. You don't want to be the guy to make that out, and we were locked in. It was exciting to see."
DeJesus started the hit parade in the decisive fifth with a double. Ben Zobrist, James Loney and Evan Longoria followed with singles, prompting Texas to turn to reliever Jason Frasor.
"That's big for the whole team to be able to come out and do that," Wil Myers said. "I think it shows signs of us turning it around. The second or third time around, we started figuring him out and getting good pitches to hit."
Having already muscled a solo home run to the opposite field in his first at-bat against Garza, Myers hammered Frasor's third pitch to center field for a two-run double, giving the Rays a four-run cushion.
Right-hander Alex Cobb held up his end by limiting the Rangers to two runs on six hits and striking out 10. He was perfect through three innings and retired nine of the final 11 batters he faced.
Rangers manager Ron Washington was impressed.
"We just got taken out of the ballgame and couldn't muster anything else against Cobb," Washington said.
Cobb said that the fifth inning, the team's first four-run frame in September, gave him a boost.
"It was real frustrating at first -- every time they gave me the lead, I was giving it up," Cobb said. "Then they just broke it open in the fifth inning, and it really allowed me to settle down and not have to nitpick so much. I was able to go at guys with my fastball, try to get them out early in the count and be able to go deeper into the game."
Tampa Bay's 12 hits tied the team's highest total in a home game since before the All-Star break, but no one could have predicted that would happen considering the way Garza was pitching early.
Manager Joe Maddon, who saw Garza throw the only no-hitter in Rays history, did not think runs would be so easy to come by.
"The thing I used to look at with him was the first pitch of the game, and I thought if it was 92 or 93 down and a strike, heads up," Maddon said. "The first pitch was 92, down for a strike. I'm thinking, 'OK, here we go.' He had his 'A' game. We battled through that and eventually broke him down."
After Myers' home run, the Rangers squandered a run-scoring opportunity in the fourth after Ian Kinsler touched Cobb for their first hit, a double to right. Kinsler was sacrificed to third but was tagged out on Alex Rios' ground ball to the right side. Texas would capitalize later in the inning to tie the score on a single by A.J. Pierzynski.
The Rays retook the lead in the bottom of the fourth on a rally sparked by hits by Longoria and Matt Joyce. Desmond Jennings collected the RBI with a sacrifice fly to deep right field.
Texas tied things again in the fifth on doubles from Mitch Moreland and Kinsler, but Kinsler made another baserunning gaffe when he was thrown out attempting to steal third.
The Rays once again had problems capitalizing with runners in scoring position, though, a problem that plagued them during their recent offensive slump. They went 6-for-11 in such situations on Monday.
"We've had a lot of bad baseball luck," Maddon said. "Our geometry hasn't been good with line drives. We need to keep fighting through that until we start missing folks. Overall, the approach has been pretty good."
If Monday's game is any indication, Maddon may finally see his team's luck turning around, just in time for the postseason.
Sam Strong is an associate reporter for MLB.com. This story was not subject to the approval of Major League Baseball or its clubs.