Magadan hopeful offense will rebound
Magadan hopeful offense will rebound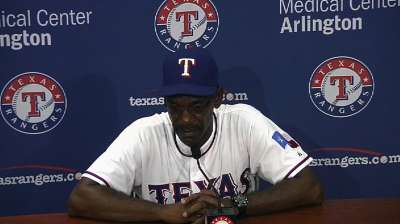 ST. PETERSBURG, Fla. -- Hitting coach Dave Magadan is as frustrated as anybody with the Rangers' lack of offense lately, but he believes his club has the talent to get turned around before it runs out of time.
The Rangers' biggest problem is their inability to hit consistently with runners in scoring position. They are hitting .225 in those situations in losing 12 of their last 15 games, and they went 1-for-10 on Sunday against the A's.
"It's a combination of a lot of things," Magadan said before Monday's game with the Rays. "Obviously, [hitting with] runners in scoring position has not been good. To be successful in those situations, you have to have a good plan, use the whole field and swing at strikes. The ambush plan [of swinging early] is not the plan. The pitcher is going to go with his out pitch earlier in the count in those situations, so you have to work through that and get a good pitch to hit. I thought we were better [on Sunday], we hit some balls hard in the opposite direction. It's a step in the right direction, but we've got to be better.
"You've got to stay the course. You can't switch philosophies. There have been periods of time where we have been good at it. But when you're not hitting with a lot of power, you have to find other ways to score. Right now we're not doing that. We know the guys in this room are capable of being better."
The Rangers went into Monday homerless in their last six games -- their longest such streak since 1995. They have also not been scoring early. Texas has not had a lead at any point during its six-game losing streak and has been outscored, 14-3, in the first four innings of those games.
Magadan is the Rangers' fifth hitting coach in the last five years. He was hired away from the Red Sox this past winter.
"I've been doing this a long time," he said. "When it's your first year with a ballclub, you want everything to go great. It's not just scoring a lot of runs; you don't want the offense to be the reason you're not winning. If you're scoring enough runs to win, that's all you can ask. But when you're not winning because you're not scoring runs, it's tough."
T.R. Sullivan is a reporter for MLB.com Read his blog, Postcards from Elysian Fields and follow him on Twitter @Sullivan_Ranger. This story was not subject to the approval of Major League Baseball or its clubs.