Crain throws to hitters for first time since joining Rays
Crain throws to hitters for first time since joining Rays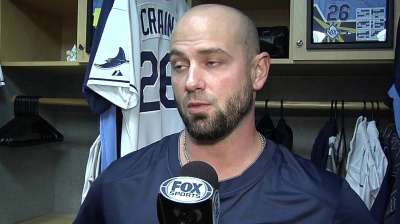 ST. PETERSBURG -- Reliever Jesse Crain faced hitters on Monday for the first time since joining the team through a July trade.
Crain, recovering from a strained right shoulder, made approximately 30 pitches to outfielder Sam Fuld and catcher Chris Gimenez, using all of his weapons, and said it went better than expected.
"When I threw the bullpen on Friday, it didn't feel the greatest, so I was worried," Crain said. "Playing catch yesterday, I didn't know how I felt. I was kind of nervous coming into today, but I felt strong, and nothing held me back."
From Fuld's perspective, Crain looked worthy of the All-Star selection he earned with the White Sox before the injury.
"I don't remember [facing Crain] vividly, but I remember not enjoying it," Fuld said. "He looked pretty similar to what I remember seeing from the batter's box."
Crain gave Monday's session an "A" and said he feels 90 percent back to where he was before the injury.
The Rays' training staff will determine Crain's next step after evaluating how he feels on Tuesday, but with less than two weeks remaining in the regular season, the clock is ticking.
"If this was June, I would probably have one or two rehab games, but with where we are in the season, I want to get out there as soon as possible," Crain said. "That move will be made as soon as we feel comfortable doing it."
Manager Joe Maddon said that it is too early to determine how often Crain will pitch or where he will fit into a bullpen where roles are already clearly defined, especially in the back end.
"We have to break him in slowly," Maddon said. "We won't just throw him to the wolves. You know what he's capable of doing eventually, but in the beginning you have to try to get his feet on the ground and move it from there."
Sam Strong is an associate reporter for MLB.com. This story was not subject to the approval of Major League Baseball or its clubs.