Dealing with sore calf, A-Rod hopes to play Tuesday
Dealing with sore calf, A-Rod hopes to play Tuesday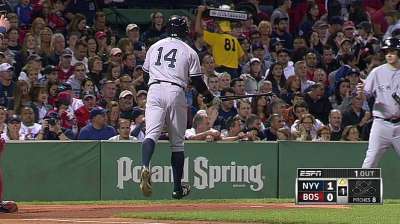 BOSTON -- The Yankees have a new injury to watch with Alex Rodriguez, who was forced to exit Sunday's 9-2 loss to the Red Sox with tightness in his right calf.
Rodriguez has been guarding a tight left hamstring since saying he felt a "knot" while running the bases Tuesday against the Orioles in Baltimore. He said that he felt the calf tightness during both of his at-bats on Sunday.
"I've had a calf injury before, and those are tricky," Rodriguez said. "They're very dangerous. I'm hoping that I came out of the game before something really bad happened."
Rodriguez was referring to a calf strain in 2010 that cost him 14 games. Rodriguez said that he will have treatment during Monday's off-day and hopes to play on Tuesday against the Blue Jays in Toronto.
The Yankees have used Rodriguez as a designated hitter for five games since that injury, and Rodriguez said he was trying not to have the hamstring "blow out."
"There's no time for concern, you've just got to go," Rodriguez said. "You've got to play as hard as you can, and you never know. We've just got to worry about being back on a good winning streak on Tuesday."
Rodriguez's speed on the basepaths has appeared limited, but manager Joe Girardi had been optimistic that Rodriguez could return to third base on Tuesday. That now appears to be strongly in question.
"I have no idea [if Rodriguez will play Tuesday]," Girardi said. "No idea."
Rodriguez batted twice against Boston's Clay Buchholz on Sunday, knocking a run-scoring groundout in the first inning and singling in the second inning before being erased on a double play.
Vernon Wells pinch-hit for Rodriguez when his spot in the lineup came around again in the fifth inning, remaining in the game as the DH.
"It's frustrating, especially because I feel so good up there," Rodriguez said. "I've also missed playing third base. I think it's important for me to be out there playing third base. I think it makes our team more balanced. I guess the good news is that we're leaving Boston."
Bryan Hoch is a reporter for MLB.com. Follow him on Twitter @bryanhoch and read his MLBlog, Bombers Beat. This story was not subject to the approval of Major League Baseball or its clubs.