Bogaerts drawing rave reviews during apprenticeship
Bogaerts drawing rave reviews during apprenticeship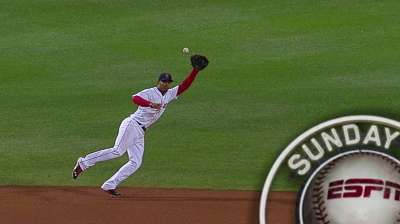 BOSTON -- Will Middlebrooks is dealing with the flu, and that gave Xander Bogaerts the rare chance to start two days in a row, this time at third base.
There will come a time in the not too distant future when it will be news when Bogaerts doesn't play, but at this stage of his development, the club's No. 1 prospect is soaking in his environment and capitalizing when he is called on.
It happened again on Sunday, as Bogaerts went 2-for-3, including a rocket double to the opposite field in right during the Red Sox's 9-2 win over the Yankees. He also scored twice, drew a walk, was part of a double steal and made a spectacular lunging grab of a line drive.
Bogaerts is pleased that he's been able to perform even without regular playing time.
"My timing went off a little bit for a while," Bogaerts said. "It's something you have to deal with. That's why you take extra BP and stuff like that so you keep yourself and baseball skills in shape."
Manager John Farrell has been thoroughly impressed watching Bogaerts handle his first few weeks in the Majors.
"I think he's done a very good job," said Farrell. "Yesterday he made a number of plays at shortstop look very easy. Ground ball that had the potential to lead to a run that he fields far to his glove side on the front end of a double play that we didn't turn but wasn't an easy play, and then the two-hopper that he seemingly just changed direction with the throw. He's a very graceful defender."
Bogaerts is still gaining comfort at third base.
"Right now, he looks more comfortable at short than he would at third, which you'd expect because of the number of games played there," Farrell said. "But he's blended in well. He's been all eyes and ears. He asks great questions. This has been invaluable, the time that he's been here so far. He's got a bright future."
While some players with the advance billing of Bogaerts might have trouble with the infrequent amount of playing time, he has maximized his early days as a Major Leaguer.
"He's a smart kid. He's very respectful, and I mean that in a good way," Farrell said. "He doesn't come across as he knows it all. He's all eyes and ears. I read the article, I forget who wrote the article, but his comment of wanting to be great, that's what you hope every young player aspires to. That means he's going to put in the work."
Ian Browne is a reporter for MLB.com. Read his blog, Brownie Points, and follow him on Twitter @IanMBrowne. Jason Mastrodonato is a reporter for MLB.com. Follow him on Twitter @jmastrodonato. This story was not subject to the approval of Major League Baseball or its clubs.