Sweep success: Magic number falls to four
Sweep success: Magic number falls to four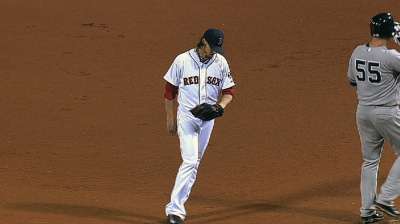 BOSTON -- The pregame nostalgia the Red Sox displayed for Mariano Rivera and his brilliant career was replaced by in-game relentlessness against the Yankees.
The Red Sox have played lights-out baseball in recent weeks, and they continued that trend on Sunday night at Fenway Park, finishing off a three-game sweep with a 9-2 victory over the Yankees in the final rivalry matchup of the season.
Needless to say, it was not the type of game that represented a save situation -- or anything close to it -- for Rivera, who was reduced to spectator status in what could have been his final night at Fenway Park as an active player.
Whether it was Clay Buchholz on the mound or any one of a number of Boston hitters at the plate, the home team put on a clinic in this one.
"Our confidence continues to grow, and that's not to take anything for granted, or a matter of our guys thinking that someone is not going to pitch a good game against us or play a good game against us," said manager John Farrell. "It's just a matter of this group believes in itself and it continues to show up between the lines."
With 11 game left in their season, the 92-59 Sox lead the Rays by 9 1/2 games in the American League East, lowering their magic number for a division title to four.
Since Aug. 24, Farrell's team has reeled off a 17-4 mark.
"We're doing everything," said David Ortiz. "We're pitching well, we're playing good defense, we're hitting. Hopefully it continues like that."
Though the Yankees still have some hope to notch one of the two Wild Card spots, being swept by their rivals didn't help that cause. Manager Joe Girardi's team is three games back with 12 to go.
"We're not the only team that's run into hard times in the month of September or August," said Girardi. "All these other teams are running into hard times, too. We still have a great opportunity. Yeah, we've got to win a lot of games, but the opportunity is in front of us."
While the Yankees hope to catch lighting in a bottle down the stretch, just about everything continues to go right for the Red Sox. Buchholz missed three months with an injury but has been nearly flawless since his return.
Over six innings, the righty gave up two hits and an unearned run, walking four and striking out three. Buchholz improved to 11-0 and lowered his ERA to 1.51.
Imagine how well he might have performed if he had his best stuff?
"Yeah, it wasn't as simple as the last time out," said Buchholz. "I was battling some command issues there early. The defense behind me got a big couple of double-play balls after some lead runners got on. I felt like as the game went on I got stronger as far as the command. The best inning I felt was the last inning that I threw. That was a good sign for me. Other than that, I just battled my way through it. It wasn't pretty, but we came out with a win."
You'd think the offense would be at least a little slowed without Jacoby Ellsbury, who is out indefinitely with a fracture in his right foot. Instead, the Sox continue to have different players step up. Daniel Nava led the charge in this one with a 4-for-5 performance.
The Red Sox finished at 13-6 against the Yankees this season, which will leave their rivals with something to think about if they don't make it to the postseason.
"A lot of times, it's just been one swing that has opened the floodgates in terms of a game that was close or tied, and all of a sudden we're up by four or five," Nava said.
Countless times, that one swing has come from Napoli, who continued his season-long torment of the Yankees by hitting a two-run rocket to center in the first, setting the tone for his team.
Napoli hit .375 with seven homers and 20 RBIs against the Yankees this season.
The only way Rivera and the Yankees can return to Fenway this season is if the Yankees can get into the playoffs and meet the Red Sox.
If Rivera could have scripted the night, he would have closed out a New York victory. But in his usual classy manner, he thanked the Red Sox and their fans.
"Great ceremony," Rivera said. "Great. Well done. Humbling. At the same time, I definitely appreciate what the Red Sox organization did. I will never forget that."
The only true misfire Buchholz had in Sunday's game was on a pickoff throw in the first. In an attempt to keep Curtis Granderson close, Buchholz threw the ball down the first-base line. Granderson scooted to third and scored on a fielder's-choice grounder by Alex Rodriguez, who would later leave the game with a right calf injury.
However, the momentum immediately shifted to the Red Sox, where it would stay for the rest of the night. Nava jump-started a rally in the bottom of the first with a one-out double to right. Ortiz drove him home with an RBI single to left.
With two outs, Napoli stepped up and belted a prodigious two-run homer to center to make it a 3-1 lead for Boston. While Napoli unleashed pure strength on New York, the Red Sox executed a much-different technique while stealing a run in the fourth.
With Jarrod Saltalamacchia on third base and Xander Bogaerts on first, Bogaerts made a heads-up play with one out, faking a steal of second while intentionally getting himself in a rundown to draw a throw. Yankees catcher Chris Stewart made an off-target effort toward second base and the ball bounced in the dirt while Saltalamacchia took off from third and was credited with a steal of home on the play. Bogaerts finally stole second on Stewart's throw, which landed several feet from the bag.
"I mean, Jackie Robinson, Ellsbury, I'm in a pretty elite category," quipped Saltalamacchia.
There would be another run in the fifth, two in the sixth and two more in the seventh, putting the rout in motion.
Not only are the Red Sox winning, but they're having a lot of fun doing it.
"It's awesome," said Buchholz. "It was awesome the couple months I was out just watching and seeing a different guy do it every day and every night. When we needed somebody to step up, it seemed like it was somebody different. We've made some big defensive plays. They've obviously scored a lot of runs. It's fun to play ball when everything is going right."
Ian Browne is a reporter for MLB.com. Read his blog, Brownie Points, and follow him on Twitter @IanMBrowne. This story was not subject to the approval of Major League Baseball or its clubs.