Cards erupt to remain tied in NL Central race
Cards erupt to remain tied in NL Central race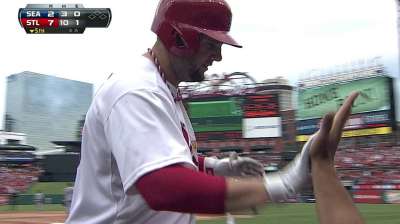 ST. LOUIS -- The Cardinals had scored just three runs in the first six innings of their five games, but they snapped out of their funk in a big way Sunday.
A resurgent St. Louis offense erupted for 12 runs and 19 hits as the Cardinals cruised to a 12-2 victory over the Mariners. With the win, which came before 40,526 fans at Busch Stadium, the Cards remained tied with the Pirates atop the National League Central, wrapping up a 7-2 homestand and concluding Interleague Play with an even 10-10 record this season.
The Cardinals hadn't scored in the first, second or third inning all week, relying mostly on late-game rallies. On Sunday, however, St. Louis recorded a hit in each of the first seven innings, and totaled 19, which is tied for the second most this year behind the 21 knocks that came on July 14 against the Cubs. Each batter in the starting lineup, with the exception of starting pitcher Shelby Miller, had at least one hit.
"It was a good homestand," manager Mike Matheny said. "We saw big offense today, but we haven't had it, so it's nice to be able to figure out ways to win. Hopefully we've got a nice stretch here where we can use that good offense to get everybody feeling right and contributing."
Yadier Molina entered the game in an 0-for-15 slump, but he went 4-for-5 Sunday, beginning with a solo blast in the second. Molina's homer ignited a lineup that went on for four-run rallies in the fourth and fifth innings.
Seattle starter Erasmo Ramirez allowed the first four when he gave up five singles and plunked two batters in the fourth to end his day early. St. Louis scored another four in the fifth against relievers Carter Capps and Bobby LaFromboise with three singles, two doubles and a two-run, 420-foot homer from Matt Adams. The Mariners went through the entire St. Louis lineup before securing the third out in both innings.
"They hit some ground balls to the right spots, fly balls to the right spots and maybe I started getting a little behind in the count," Ramirez said. "I don't know. The ball was just running everywhere. It's no excuse, but I have to control that. Just one inning, ground ball, fly ball, two hit by pitch, everything happened."
"Every time we take the field we're trying to put up runs early and have good at-bats," said Carlos Beltran, who chipped in with a two-run single in the seventh. "And it just seems like nothing was coming our way, so today was a day where we found holes, and we were able to put guys in scoring position and were able to drive them in."
Miller limited Seattle to two runs -- one earned -- on three hits and two walks, but fell victim to a high pitch count, leaving the game with 97 pitches in the fifth.
The right-hander opened with a leadoff walk, then retired the next nine batters before the Mariners tied the game at 1-1 on two hits and a walk in the fourth. Seattle reached home safely once more in the fifth, but Daniel Descalso's fielding error made it an unearned run for Miller.
"I thought me and [catcher Yadier Molina] did a really good job of getting ahead early in the counts the first three innings and then we kind of fell behind," Miller said. "My fastball command slipped away a little bit and [I was] getting a lot of foul balls as well. It kind of raised my pitch count up, but at the same time I felt strong enough to go in the sixth."
But thanks to the offensive outburst, Miller's performance was more than enough to earn his 14th victory, becoming the first Cardinals rookie to reach that mark since Dick Hughes won 16 games in 1967.
"I am kind of happy with where I'm at, but there's so much room for me to get better," Miller said. "I think there's a lot of improvement I need to work on. I only went five innings today, that's not what you want out of a starting pitcher."
"It's impressive," Matheny said of his rookie hurler. "We had a couple [wins] that we let get away from us, too, that he had. He's getting better, and I think a day like today proves that, where he didn't have his best stuff -- he didn't have that live fastball -- and he still figured out ways to get people out."
The Cardinals will now turn their attention to their last road trip of the regular season, hoping to build off the momentum of Sunday's victory as they remain locked in a tight race for the postseason.
"This is going to come down to the wire," said Matt Carpenter, who went 3-for-5 for his Major League-leading 58th multihit game. "Thankfully, the Pirates and Reds will have to match up against each other, so hopefully they'll beat on each other, and we can take care of our business on the other end."
Chad Thornburg is an associate reporter for MLB.com. This story was not subject to the approval of Major League Baseball or its clubs.