X-rays negative after McLouth exits on HBP
X-rays negative after McLouth exits on HBP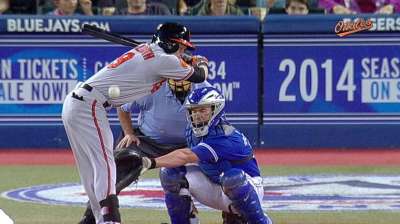 TORONTO -- Nate McLouth exited Sunday's game in the ninth inning after being struck by a pitch in the right knee by Toronto reliever Kyle Drabek, and an X-ray taken after the Orioles' 3-1 win came back negative.
"Nate is fine," manager Buck Showalter said. "We would have left him in, but we liked the matchup of stealing second there. I wanted to take a pop at it, or else he would have continued. I think he will be fine."
Drabek's 0-1, 94-mph fastball caught the side of McLouth's knee and he was in immediate pain, bending over as Showalter and head athletic trainer Richie Bancells went out to the field. McLouth walked gingerly to first base after several minutes, and he was replaced by Chris Dickerson after getting to the bag.
"It hit me in a weird spot," said McLouth, who planned to get treatment on the area during Monday's off-day in Boston. "I don't know if there's a nerve there or what, but it went numb. It was a situation where I knew that ... Buck wanted me to run and I wasn't able to do that, so that's why I had to come out."
McLouth had replaced Michael Morse on defense in the bottom of the sixth and expected to be an available player for Tuesday's series opener against the Red Sox.
"I can play with a little bit of a sore knee," McLouth said. "I'll be fine."
Brittany Ghiroli is a reporter for MLB.com. Read her blog, Britt's Bird Watch, and follow her on Twitter @britt_ghiroli. This story was not subject to the approval of Major League Baseball or its clubs.