Zito may get one last start for Giants
Zito may get one last start for Giants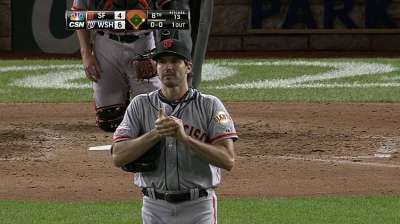 LOS ANGELES -- Giants manager Bruce Bochy dropped the slightest of hints Sunday that Barry Zito might receive one more start during the club's 12 remaining games.
Asked Sunday about the scheduled assignments for the club's starting rotation, Bochy said, "Right now, we haven't changed anything."
When a reporter wondered whether Zito might be mixed into the rotation if the Giants needed a sixth starter to rest some tired arms, Bochy said, "I would say he would be the candidate."
Zito's days as a Giant are likely coming to an end. His seven-year, $126 million contract ends with this season. The Giants almost surely will decline to pay him an $18 million option. Zito then would get a $7 million buyout. The left-hander is 4-11 with a 5.91 ERA and has twice been removed from the rotation. Yet he continues to command respect for his ceaselessly positive attitude and the contributions he made during last year's World Series-winning campaign.
Overall, Bochy plans on few lineup changes in the season's final days. Though the Giants will face the non-contending New York Mets in their next series following Monday's scheduled off-day, Bochy said that he'll continue to play mostly regulars, while mixing in a rookie here or there -- as he did Saturday night, when Nick Noonan started at second base.
"I don't see [the lineup] changing too much," Bochy said.
Chris Haft is a reporter for MLB.com. This story was not subject to the approval of Major League Baseball or its clubs.