Smith flirts with no-no in Atlanta, earns first win
Smith flirts with no-no in Atlanta, earns first win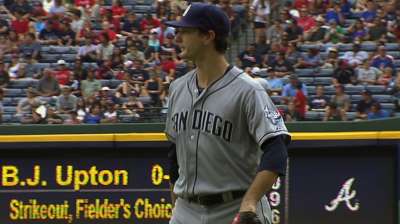 ATLANTA -- The only time that Padres rookie Burch Smith didn't have a firm grip on his pitches Sunday was when he went to the mound to make his warmup tosses before the first inning.
It wasn't a lack of command or anxiety over facing the Braves' lineup that had him a little worried, but instead a sticky substance on his hands that was causing him fits.
"The ball was coming out of my hand funny," Smith said. "I've never had that happen to me. I couldn't feel the ball. It kept slipping out of my hand."
Smith returned to the dugout and cleaned off a cleaning solvent that was used on the dugout bench at Turner Field, got back on the mound and rolled from there, tossing seven shutout innings as the Padres defeated the Braves, 4-0, before a crowd of 36,125.
Smith (1-1) took a no-hitter into the sixth inning and got a lot of mileage out of his fastball-changeup combination, allowing three hits and walking two to go with a career-high 10 strikeouts.
It was certainly a strong finish after a weird start for Smith -- not just Sunday, but really, his entire time in the big leagues. He struggled in May, and now the 23-year-old has returned a better pitcher, one who figures in the Padres' rotation plans for 2014.
"He came on the map this year," said manager Bud Black.
But first Sunday, Smith needed help in cleaning the solvent off his hands before he could resume pitches before the game.
"He came in and said, 'I need to get this slimy stuff off my hand,'" Black said.
From there, Smith rolled. He retired the first 11 hitters he faced and had seven strikeouts through the first four innings -- five of them on changeups.
"He was good at throwing his changeup for strikes and throwing his curveball for strikes, too," Braves third baseman Chris Johnson said. "His fastball was a little erratic, which was tough, but he used it to his advantage, threw his slider for strikes, and when we were caught off guard with his fastball, he was still around the zone."
Smith, who began the season with Double-A San Antonio -- which won the Texas League championship on Sunday -- didn't allow a hit until Braves pitcher Julio Teheran (12-8) rolled a single up the middle to start the sixth inning.
It was in the sixth when Smith ran into his only real trouble. After the Teheran hit, Jordan Schafer struck out but Justin Upton singled, sending Teheran to third base. But Smith got Freddie Freeman out on his front foot on a changeup for a flyout and then struck out Evan Gattis on a curveball.
"That was critical," Black said. "The middle part of their order is really good. He had them off-balanced. You have to respect the velocity and the change. That's a great combo."
The Padres got an RBI single from Jedd Gyorko in the sixth inning and then Chase Headley followed with his third home run in as many games, a two-run shot to right field for a 3-0 lead. Tommy Medica added a home run in the seventh inning for a 4-0 lead.
This was the first time in Headley's career that he's hit home runs in three consecutive games.
But the day belonged to Smith, who made his Major League debut against the Rays on May 11, worked a scoreless first inning and then didn't get an out in the second. He returned to Triple-A Tucson and pitched well and was added to the Friars' roster earlier this month.
"It's more of a mentality of attacking more, throwing each pitch with conviction," Smith said.
He's made subtle changes to his mechanics, but worked more on pitch sequencing, and as he said, more attacking the strike zone since that debut in May, when he allowed six runs in one-plus inning.
"He threw the ball great," said Padres catcher Nick Hundley. "He did a good job of pitching down in the strike zone, which allowed him to elevate his pitches when he needed to. He's done a great job. This is definitely a step in the right direction."
Corey Brock is a reporter for MLB.com. Keep track of @FollowThePadres on Twitter. This story was not subject to the approval of Major League Baseball or its clubs.