Cloyd, 'pen hit hard in Phils' loss to Nationals
Cloyd, 'pen hit hard in Phils' loss to Nationals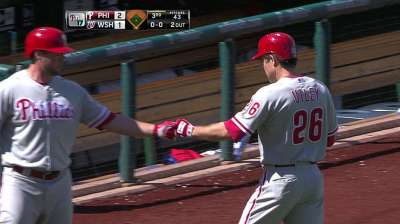 WASHINGTON -- The Phillies moved Tyler Cloyd back into their starting rotation recently, giving the right-hander a chance to improve his stock for next season. So far, it hasn't gone well.
Cloyd endured his second consecutive poor outing on Sunday afternoon at Nationals Park, as Philadelphia's road woes continued in an 11-2 loss to Washington. The 26-year-old was tagged for five runs on 10 hits over four-plus innings, and the bullpen couldn't stop the bleeding in the rubber game of a three-game set.
"Any time you have a bad outing, no matter how many good ones you have, you're always disappointed," Cloyd said. "Obviously I'm more disappointed that I'm pitching bad and not giving the team a chance to win. I've got to figure it out somehow. It's obviously pitch execution, so I've just got to figure it out and see what I'm doing wrong and fix it."
There were a couple of bright spots for the Phillies. Left fielder Domonic Brown looked good in his first start since Aug. 30, and center fielder Roger Bernadina burned his former team by reaching base three times, including a pair of doubles. But it wasn't enough to overcome the Nationals, who bounced back a day after the Phillies snapped their seven-game winning streak.
Now 5-19 in their past 24 games away from Citizens Bank Park, the Phillies dropped to 0-7-1 in road series since the All-Star break.
The team's rotation, outside of lefties Cole Hamels and Cliff Lee, has been an issue, one interim manager Ryne Sandberg admitted will need attention in the offseason.
"Those are some things that have to be discussed and improved on," he said. "So yeah, that's an area that has to be addressed. The game starts with starting pitching."
Cloyd (2-5) might be part of that discussion, but he hasn't been doing himself any favors, surrendering 17 earned runs in 14 innings over his past three big league starts, going back to Aug. 20. Coming off an outing in which he gave up seven runs over four innings against the Padres, Cloyd got through three innings with a 2-1 lead before things fell apart.
Employing an aggressive approach that saw them hacking early in the count, the Nats jumped ahead with a three-run fourth. Bryce Harper led off with his second double and scored the tying run on Ian Desmond's blast off the left-field wall. One out later, Wilson Ramos picked up one of his four hits and five RBIs with a single past third base. Cloyd caught a break when Steve Lombardozzi was thrown out at second after a single, but pitcher Jordan Zimmermann followed with an RBI single to right that made it 4-2.
After Ryan Zimmerman and Jayson Werth started the fifth with consecutive singles to push across another run, Sandberg lifted Cloyd, whose ERA rose to 5.06.
"He has to be real good with his command, and it seemed like today, as the game got into the fourth, it looked like balls started to be elevated a little bit and caught a lot of the plate," Sandberg said. "And against that lineup and the way they're swinging the bat, that's a tough combination."
Washington, which pounded out 18 hits, tacked on six more runs against the Philadelphia bullpen.
The Phillies got on the board in the second, when Brown led off with a double into the left-center gap and later scored on Kevin Frandsen's sacrifice fly. Brown showed no ill effects from his right Achilles injury as he hustled to beat Harper's throw from left field, although he went on to strike out in each of his next three at-bats.
"I ain't worried about what I'm doing, I'm just happy to be back in the lineup," Brown said. "I got that first hit and then shut it down for the rest of the day, but that's part of it. Come back out, fight tomorrow."
Philadelphia grabbed the lead back in the third when Chase Utley drove in Bernadina with a groundout. Bernadina, a former National, had snapped a 4-for-35 slump with a leadoff double.
There was no more damage against Zimmermann (18-8), who held the Phillies to two runs in each of his four starts against them this season. The righty gave up seven hits, walked two and struck out seven over seven innings.
"Excuse my French here, but we got our [butts] whooped. But they're playing good baseball over there," Brown said. "It felt like everything we were throwing, they weren't missing. So it's a tough one, but we've got to tip our cap to those guys over there and keep moving. We've got to stay positive. ... We've got to finish strong and keep preparing the same way and keep going out and fighting."
The Phillies will return to Citizens Bank Park for their final homestand of the season, which begins on Monday against the Marlins.
Andrew Simon is a reporter for MLB.com. Follow him on Twitter @HitTheCutoff. This story was not subject to the approval of Major League Baseball or its clubs.