Ramos' big day at plate helps Nats' WC cause
Ramos' big day at plate helps Nats' WC cause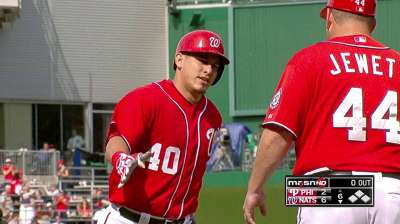 WASHINGTON -- Before starting his 23rd consecutive game and leading the Nationals to an 11-2 rout of the Phillies on Sunday afternoon, catcher Wilson Ramos relaxed in front of his locker. He put his hands behind his head and leaned back in his chair.
Yes, the 26-year-old was a little bit tired. He could probably have used a day off. His string of consecutive starts is the longest by a Major League backstop this season. It shows that he is not only healthy, but playing well on a daily basis.
"When you play like that," Ramos said, "you don't want to rest."
Ramos matched career highs with four hits and five RBIs Sunday to propel the Nationals to their eighth win in nine games. Manager Davey Johnson said he would check to see if Ramos wanted to take Monday's game off. He certainly earned it.
"He's hard to take out of the lineup," Johnson added. "We've missed him for two years. So we'll ride him."
With the win and Cincinnati's walk-off loss to the Brewers, the Nationals once again gained ground in the National League Wild Card race. They are 4 1/2 games out with 13 games remaining.
The reason? Ramos. After tearing his anterior cruciate ligament last season, he missed 58 games earlier this season after twice straining his left hamstring. Some questioned his durability, but he hopes that his recent stretch has put those doubts to rest.
"I know what I can do," Ramos said. "I know I can help the team with my bat and behind the plate. I'm working very hard for this and I believe in myself."
Ramos drove in Bryce Harper for Washington's first run in the second inning and plated another run with another single in the fourth. His homer in the sixth inning cleared the wall in left-center field. A single in the seventh inning brought home two more runs.
"It just seems like this is a norm," Denard Span said. "I didn't even realize he was 4-for-4. I'm going to be honest with you, it just seems like every time he's up there he's hitting the ball hard."
Ramos also helped Jordan Zimmermann navigate the Phillies' lineup for his 18th win of the season, the most in the NL. The right-hander struck out seven over seven innings while allowing just two earned runs. He has won four of his past five starts.
"It feels good, but then again, I'll trade all those wins in for a spot in the playoffs," Zimmermann said. "That's the only thing that matters right now. We're playing good ball and scoring some runs, so it's definitely fun."
While Ramos was the catalyst for the Nationals' offense, he was not the only contributor. Harper finished 3-for-5 and scored three runs. Jayson Werth had a pair of hits. Ian Desmond drove in three runs. Span extended his hitting streak to 26 games.
The Nationals had 18 hits in the series finale, matching a season high. Every starter -- including Zimmermann -- finished with at least one hit.
"We battled back in that game [Saturday night] and then today, we hit a lot of balls the first few innings and didn't have too much to show for it," Johnson said. "But we finally erupted, and it was fun watching."
After the game, the flat-screen televisions in the Nationals' clubhouse alternated between football and the game in Milwaukee. When Carlos Gomez robbed a Reds home run, cheers echoed from the training room. When Sean Halton hit the game-winning home run, Harper was in the middle of a postgame interview.
"Oh," Harper said. "That's good, too."
While every win is crucial at this point in the season, Sunday's win also gave the Nationals some much-needed momentum heading into Monday's series opener against the Braves. There is a chance that Atlanta could clinch the National League East at Nationals Park.
"We need to at least send a message to them these next three days that we're better than them," Johnson said. "I always believed we're better than them."
Tom Schad is an associate reporter for MLB.com. This story was not subject to the approval of Major League Baseball or its clubs.