Pence, Pill slug Giants to series win in LA
Pence, Pill slug Giants to series win in LA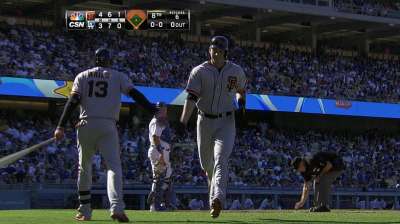 LOS ANGELES -- With each home run he hits, Hunter Pence seemingly ascends into a greater stratosphere of accomplished hitters. The Giants are enjoying the ride with him.
Pence homered twice on Sunday to join Willie Mays as the only Giants to go deep against the Los Angeles Dodgers in each game of a four-game series. When you play for San Francisco, the company doesn't get more illustrious than that.
But the Giants needed to tap a different source of power to subdue the Dodgers -- Brett Pill, whose leadoff, pinch-hit home run broke an eighth-inning tie and ushered San Francisco to a 4-3 triumph.
Their deeds, along with Sergio Romo's ninth-inning escape act for his 35th save, helped San Francisco defeat the Dodgers for the third game in a row. Though the Giants' postseason hopes evaporated long ago, they're suddenly playing competently again, winning six of their last eight games.
"There's a quote that comes to mind: Things turn out best for those who make the best of what is," said Pence, revealing his philosophical side. "This is where we are. We have to make the best of it. One way to make the best of it is to charge in as hard as we can. Not only do we owe that to ourselves and each other, we owe that to the fans and the organization."
Pence obviously believes in the benefits of sincere effort. He followed his seven-RBI performance in the Giants' 19-3 rout Saturday by conjuring more hitting history.
Pence opened Sunday's scoring by homering to lead off the second inning, then erased a 3-1 deficit by launching a two-out, two-run homer in the sixth inning. On both occasions, Pence jumped on changeups from Dodgers starter Edinson Volquez.
In 15 September games, Pence is batting .421 (24-for-57) with four doubles, nine homers and 25 RBIs. His 19 RBIs in his last six games are the most by a Giant in a six-game span since RBI became an official statistic in 1920.
"We ran into the hottest hitter in all of baseball," Dodgers catcher A.J. Ellis said. "[Volquez] left two pitches up and paid for them both."
Pence actually still trails Mays, who twice homered in four straight games against the Dodgers. Mays did so in four consecutive games of a five-game series, and on each day of an entire four-game set against the Dodgers from Aug. 19-22, 1965. Barry Bonds (Sept. 16-21, 2005) was the last Giants player to homer in four consecutive games until Pence did it in this series.
Pence finished this series with five homers and 12 RBIs. Philadelphia's Mike Schmidt (1979) and Pittsburgh's Frank Thomas (1958) also homered five times in a series against the Dodgers. As for the series' RBI total, Pence's dozen represents the most against the Dodgers since St. Louis' Ripper Collins had 13 in 1935. The only other Giants player to amass 12 RBIs in a series for the Giants since they moved to San Francisco in 1958 was Dick "The Mule" Dietz, July 6-9, 1970, against Atlanta.
Pence said he was "shocked" to hear his name linked with Hall of Famers and All-Stars.
"When you're mentioned with those names, it's extremely humbling and it's an honor," Pence said. "What they did in the past is part of who we are on the field today."
Pence's homers backed Giants starter Ryan Vogelsong, who recovered from a pair of rough outings to limit Los Angeles to three runs in six innings. Vogelsong faded in the fifth inning in each of his previous two starts, allowing four runs to Arizona on Sept. 5 and five to Colorado on Tuesday after pitching four shutout innings both times. He repeated the pattern by yielding three fifth-inning runs to the Dodgers but kept the score closer this time.
That left matters up to Pill, who faced Dodgers left-hander Paco Rodriguez (3-3) to christen the eighth. Odds didn't favor Pill, who was 1-for-22 as a pinch-hitter. "I don't know what the numbers were, but I knew they haven't been good off the bench," Pill said.
Pill worked the count to 3-2 before launching a curveball over the left-field barrier. Pence's hot streak, he noted, influenced him.
"I think we're all kind of feeding off of it," Pill said. "We're getting aggressive."
Aggressiveness was required from Romo, who pitched himself into a jam by allowing ninth-inning singles to Nick Buss and Dee Gordon. But Romo struck out Mark Ellis with runners on second and third and one out, then intentionally walked Adrian Gonzalez to load the bases. Next up was a pinch-hitter, and a formidable one: Yasiel Puig, who didn't start due to tightness in his left hip. Puig lashed a first-pitch grounder to shortstop Brandon Crawford, who flipped the ball to second base for the game-ending forceout.
"It doesn't matter how pretty you get the job done, as long as you get it done," Romo said.
Chris Haft is a reporter for MLB.com. This story was not subject to the approval of Major League Baseball or its clubs.