Garcia pursuing goal of returing to mound in '13
Garcia pursuing goal of returing to mound in '13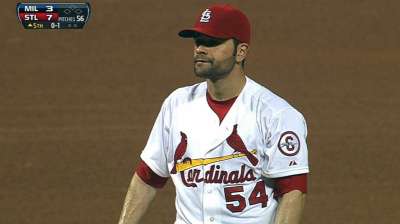 ST. LOUIS -- It's unlikely Jaime Garcia will pitch again in 2013. But that isn't stopping the left-hander from aiming for that goal as he rehabs from May shoulder surgery.
"I'm not killing the chance that there might be an opportunity that I can pitch somewhere, sometime this year and at least I have that in my mind," Garcia said. "If it comes October, they shut me down, I go home, then [at least] it helped me get through this part of the process."
If the team weren't locked in a tight pennant race and in position for a postseason run, Garcia's mind might be focused on the offseason, but as long as the Cardinals are in the thick of it, he's pushing himself for a return.
"It's kind of giving me that extra motivation I need for this year," Garcia said. "I'm taking this thing one day at a time, [but] it makes it a little bit easier when these guys are doing what they're doing right now."
Monday marks another progressive step in Garcia's rehab as it's the first time he will throw without a scheduled number of pitches or set distance.
"Tomorrow is just a long-toss day, play catch, [see how it feels] and then progress," Garcia said. "It would be a lot better if I was out there with my team, helping them, but you know, it's one of those things where I'm doing everything that's in my control right now to be able to come back for good this time."
Chad Thornburg is an associate reporter for MLB.com. This story was not subject to the approval of Major League Baseball or its clubs.