Bullpen's depth keeping relievers fresh, on their toes
Bullpen's depth keeping relievers fresh, on their toes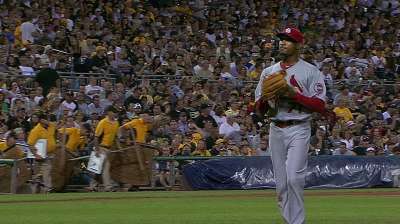 ST. LOUIS -- September callups have given the Cardinals added bullpen depth, but in some cases, that depth has relievers going through longer layoffs between appearances than usual.
Tyler Lyons pitched for the first time Saturday since Sept. 4, tossing 2 2/3 innings and surrendering a two-run homer.
"It's been a little while, but you do what you can in between to kind of be ready when you're called upon," Lyons said. "You still do the same thing in between and work on stuff and try to keep everything sharp. It's a little adjustment, but you know, I felt fine so that's all that matters."
The adjustment is particularly jarring for a player like Lyons or Jake Westbrook, who are used to taking the mound every five days as a starter, but for a regular reliever, it's just the nature of the job.
"One thing I've noticed about being in the bullpen from my experience, there's no routine as far as set time," Sam Freeman said. "You don't really know actually, unless you're a closer, when you're going in and when you're not."
Freeman, who hasn't pitched since Sept. 8, warmed up during Saturday's game, but never entered it.
"I just try to just always stay ready," he said. "Then whenever that call does come it doesn't ever catch you off guard. There's more guys, there's more options, that just means you have to stay more prepared for whenever your name is called."
Chad Thornburg is an associate reporter for MLB.com. This story was not subject to the approval of Major League Baseball or its clubs.