Reds set rotation for series against Astros
Reds set rotation for series against Astros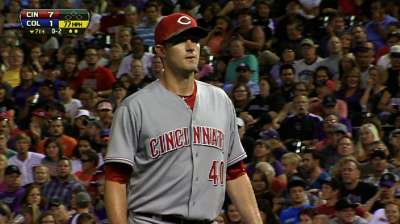 MILWAUKEE -- The Reds announced on Sunday how their starting pitching rotation will shape up for their upcoming Interleague series against the Astros.
Johnny Cueto will return from the disabled list for the opener, leaving Games 2 and 3 for Mike Leake and Greg Reynolds.
Cueto jumps into the rotation after his third stint on the DL this season, helping fill a void left by Tony Cingrani, who replaced Cueto in the rotation, but left his last start with back issues.
Reynolds will make his fourth start of the year. In his first three starts, the 28-year-old right-hander went 1-2 with a 4.74 ERA against the Giants, Brewers and Rockies. Reynolds relieved Cingrani on Sept. 10 when he left with back spasms and threw 1 2/3 innings, allowing four runs (three earned) on six hits to the Cubs.
"You can prepare a lot better when you know you're getting the ball," Reynolds said. "I'm obviously more comfortable with that. I'm excited for another opportunity, and I just want to do well. I'm just kind of embracing this whole thing."
Baker has said that he would like to use the Reds' remaining off days to line up certain pitchers for more important games. If the Reds stick with this order through the weekend, Mat Latos, Homer Bailey and Bronson Arroyo would take the mound in Pittsburgh this weekend.
"We plan for the future, but it's always subject to change," Baker said. "The way this game is, the way life is, you learn from yesterday, but you live for today and you try to plan the best you can for tomorrow. And things can change. That's how it is. We'll see where we are."
Baker said Cingrani might join the team for its three-game series against the Pirates that wraps up the current nine-game road trip.
"It's going to be tough to just come in and pitch when he hasn't pitched," Baker said. "I haven't had back problems, but the people I know who've had back problems, you can't do a thing. You can't get up out of bed, you can't move quickly, you can't bend down, you can't turn around, you can't dance, you can't do nothing. That back is tough, man."
Kevin Massoth is an associate reporter for MLB.com. This story was not subject to the approval of Major League Baseball or its clubs.