Miller out with strained left hamstring
Miller out with strained left hamstring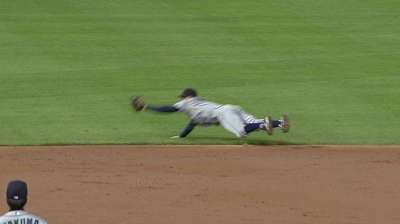 ST. LOUIS -- Rookie shortstop Brad Miller was not in the Mariners' lineup Sunday and will miss at least the next several games after straining his left hamstring during Saturday's 4-1 victory over the Cardinals.
Miller was removed in the fifth inning Saturday and replaced by Carlos Triunfel, who will now take over the shortstop duties because veteran Brendan Ryan was traded to the Yankees last week.
Miller has hit .260 with six home runs and 31 RBIs in 69 games since being called up in late June, but experienced some soreness in his left leg the last few days and felt the hamstring tighten up after running out a sacrifice bunt that set up Seattle's first two runs in Saturday's win.
"It's going to be a few days, at least," manager Eric Wedge said prior to Sunday's series finale. "He's not going to do anything today. He's sore and tight. We'll just take it day to day and see how he feels, but it's going to be at least a couple days."
Triunfel has seen limited playing time in several stints with the Mariners over the past two seasons. He's hit .083 in 24 at-bats this year, but he hadn't played since his Sept. 3 callup this month until replacing Miller on Saturday.
But Triunfel immediately impacted that game with a sacrifice bunt in the seventh, then a sacrifice fly in the ninth for the Mariners' final run.
"He's off to a great start," Wedge said. "He did a nice job situationally for us. The guy hasn't played since he got up here, but he's been working hard in his pregame. To get the bunt down and the sacrifice fly … good for him."
It was the 43rd time -- by 28 individuals -- in club history that a player recorded a sacrfice bunt and sacrifice fly in the same game, but just the second time by a player who didn't start the contest.
Wedge said rookie second baseman Nick Franklin would begin taking more pregame work at shortstop now and serve as the backup there if needed.
Greg Johns is a reporter for MLB.com. Follow him on Twitter @GregJohnsMLB as well as his Mariners Musings blog. This story was not subject to the approval of Major League Baseball or its clubs.