Paxton gets on base for first time in decade
Paxton gets on base for first time in decade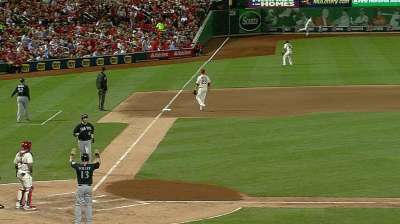 ST. LOUIS -- Runs have been hard to come by lately for the Mariners, so there were plenty of happy faces in Seattle's dugout when pitcher James Paxton rounded third and headed home in the fifth inning of Saturday's 4-1 victory over the Cardinals.
But Paxton's teammates got a little extra joy from the sight of the rookie pitcher as he stumbled slightly rounding the base and ambled plateward at a less-than-stunning speed as the 24-year-old became the first Mariners pitchers to score this season in Interleague Play.
"It was pretty cool," a grinning Paxton said. "I hadn't done that in a long time, so it was pretty exhilarating. Apparently my round of third wasn't the greatest, but hey, it worked. I was just glad I could give the guys something to laugh about."
Paxton's last at-bat in a game came 10 years earlier when he was a 14-year-old playing for the Ladner Bantam summer league team in British Columbia. He said he walked that at-bat as well, but he never advanced past first.
Because he played with the designated hitter all through high school, college and in the Minor Leagues, Paxton never batted again until his first road Interleague game on Saturday. He came to the plate twice, striking out his first time after failing to get a sacrifice bunt down with runners on first and second.
But he came to the plate with Dustin Ackley on first in the fifth inning and while trying to bunt again, he drew four straight balls from a suddenly wild Michael Wacha.
Brad Miller then sacrificed both runners up a base. And when Franklin Gutierrez drove a double to left field, Paxton scored from second to give himself a 2-0 lead.
"All I was thinking was just do what Ackley was doing," Paxton said. "If he was running, I was running. I saw the ball go down there and knew I had a good chance of scoring. He was waving me around third, so I was just going to the plate."
Mariners pitchers are 0-for-20 with 13 strikeouts and two walks this season, going into Erasmo Ramirez's start Sunday in the final Interleague game of the year.
Greg Johns is a reporter for MLB.com. Follow him on Twitter @GregJohnsMLB as well as his Mariners Musings blog. This story was not subject to the approval of Major League Baseball or its clubs.