Goldschmidt's five RBIs lead D-backs past Rockies
Goldschmidt's five RBIs lead D-backs past Rockies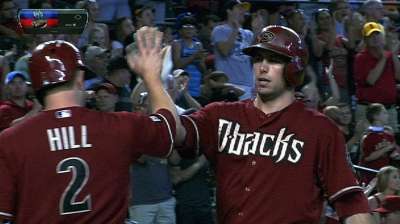 PHOENIX -- Throughout Paul Goldschmidt's breakout 2013 campaign, dry spells have been a rare occurrence for the All-Star slugger. Never really stuck in a prolonged slump, it has been the 26-year-old's remarkable consistency at the plate that has defined his stellar season, one that is sure to garner National League MVP Award votes.
But entering Sunday's series finale against the Rockies, Goldschmidt found himself in a bit of a production funk by his standards, having not homered since Aug. 22 and only tallying a total of five RBIs in his first 13 games in September.
By the end of the afternoon, however, the first baseman was more than back on track.
Finishing 4-for-4 and only a triple shy of the cycle, Goldschmidt matched a career high with five runs driven in Sunday, including two on his 32nd homer of the year, as the D-backs cruised past the Rockies, 8-2, at Chase Field to earn the series victory and give Randall Delgado his first win since Aug. 2.
"You're going to go through streaks like that, any way you look at it," D-backs manager Kirk Gibson said of Goldschmidt. "But he's just had a great year for us and it continues to go. He's carried the load many times for us. It's just what he does."
With the victory, the D-backs ensured that the Dodgers will need to win at least two games this week when they come to town for a four-game set in order to eliminate Arizona from NL West contention.
Goldschmidt got his monster day started in the first inning, when he gave the D-backs an early lead with an RBI single to left. Two innings later, he ended his 83 at-bat homerless streak by launching a blast off the center-field wall for a two-run shot.
"I knew it had been a while," Goldschmidt said. "But it's part of it. That's the way the game is. Stuff like that kind of happens."
The first baseman then smacked a two-run double in the fourth off Rockies starter Jhoulys Chacin before singling again in the seventh to cap off the memorable performance.
"It changes every day, you know, I got some good pitches to hit today, that's really what it came down to," Goldschmidt said. "You try to have good at-bats and hit the ball hard, sometimes it works out, like today."
With his four hits, Goldschmidt raised his batting average above .300 for the first time since Aug. 4. He also upped his NL-leading RBI total to 114 -- 13 more than second-place Brandon Phillips of the Reds -- and pulled to within one home run of the Pirates' Pedro Alvarez for the league lead in long balls.
"He's one of the best I've seen in the National League this season, one of the best hitters, no question." Rockies manager Walt Weiss said. "He's really good and looks like he's going to be good for a long time. He's got a great swing. He plays very well defensively. He's a good player."
The beneficiary of Goldschmidt's outburst, Delgado bounced back Sunday from the worst outing of his season his last time out, when he served up four home runs in 2 2/3 innings to the Dodgers. Delgado cruised through the first four innings before he ran into trouble in the fifth, walking one batter and giving up two hits, including a two-run homer off the bat of Charlie Culberson.
The 23-year-old returned to form for one more inning of work in the sixth before the bullpen took over the final three innings. He finished his day surrendering just the two runs on five hits in six frames while tinkering with a curveball he's trying to mix in more so hitters won't sit on his best pitches.
"I knew I had to throw more, not just fastball and changeup, so I've been working on that," Delgado said of his breaking ball. "I'm keeping it down in the strike zone, so I feel better with it. I think I had more control."
The homer Delgado served up, however, marked the 21st he has allowed in 17 games this season, a stunning number especially given that he owns a solid 3.98 ERA. The righty's manager, though, thinks that sort of trouble will subside as continues to develop.
"It's unusual that the only runs he gives up are on home runs," Gibson said. "But as he gets more matured and more experience, you'll see that go down. He's thrown very well for us overall this year, and he has a very good future for us."
Pacing Delgado and Goldschmidt were a couple of rookies who each delivered career firsts in the game. After Matt Davidson smacked his first Major League homer in the seventh, Chris Owings drove in his first run in the big leagues in the eighth with an RBI single to right field.
"I hit it deep, but I got jammed a little bit," Davidson said. "I guess it was good it flew a little bit."
Tyler Emerick is an associate reporter for MLB.com. This story was not subject to the approval of Major League Baseball or its clubs.