Chacin labors as Rockies fall in finale to D-backs
Chacin labors as Rockies fall in finale to D-backs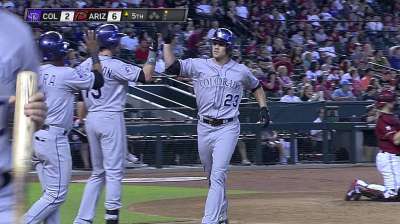 PHOENIX -- The Rockies dropped an 8-2 decision to the D-backs on Sunday in their final game in Arizona of 2013. They'll be back to open Spring Training at nearby Salt River Fields next February, for the first time sans Todd Helton, who's ending his 17-year career, all with the Rockies.
Rockies manager Walt Weiss decided to give Helton a day off on Sunday at Chase Field as Helton dealt with the interviews and aftermath of this weekend's retirement announcement. Helton will hang them up on Sept. 29, the last day of the regular season.
"I figured he'd have enough to do," Weiss said before the game.
Helton's replacement at first base on Sunday, Jordan Pacheco, went 0-for-4, while starter Jhoulys Chacin lasted just four innings, allowing six runs (four earned) on seven hits as his record dropped to 13-9.
For the D-backs, the younger generation at first base -- budding star Paul Goldschmidt -- was 4-for-4 with five RBIs, including a two-run homer and two-run double, which both came against Chacin.
"Goldschmidt? He's one of the best I've seen in the National League this season, one of the best hitters, no question," Weiss said afterward. "He's really good and looks like he's going to be good for a long time. He's got a great swing. He plays very well defensively. He's a good player."
For now, the Rockies head home for a nine-game stand at Coors Field, beginning Monday night against the Cardinals, who are followed in by the D-backs and the Red Sox. It is their last homestand of the season. Helton could play his final home game on Sept. 25 against the Red Sox. The last game of the season is at Los Angeles.
Sunday's loss was No. 82 for the Rockies, assuring them of their fourth consecutive losing season and fifth in their last six.
"I think it's important no matter where you're at to finish the drill and play strong to the end," Weiss said. "It's good that we're going back home."
Weiss added that he expects Helton to play intermittently for the rest of the season.
"He's going to play most of the time," Weiss said. "I don't know how many games he's going to play or how many he's played so far this year. He was on the disabled list once. But he's played the vast majority of the games. He'll probably get the typical days off he's had. A day game after a night game. If there's a few lefties in a row, he'll get one of those lefties off. That type of thing, the way we've done it all year."
The left-handed-swinging Helton has played in 112 games, hitting 13 homers and knocking in 52 runs. His .244 batting average is well below his .317 career mark.
Still, even D-backs manager Kirk Gibson said before the game that Helton will be missed.
"I guess that's what he feels in his heart," Gibson said when asked about the 40-year-old Helton's decision to retire. "He has been a great guy in the game for so long, just a class individual. Hopefully he'll still be around in some capacity. It's kind of sad, because you latch on to guys you like and you don't want to see them go. ... But at the same time, you have to look back and celebrate what they've done."
On the other end of the spectrum, the righty-swinging Goldschmidt is 26 and finishing his second full season. His 114 RBIs give him the NL lead by 13 over Reds second baseman Brandon Phillips, and his 32 homers leave him one behind Pirates third baseman Pedro Alvarez for the NL lead in that category.
Goldschmidt has hit 60 home runs since ascending quickly up the Minor League ladder from Double-A Mobile midway through the 2011 season. Helton had 65 homers by the end of 1999, his second full big league season. He has 367 in all.
"I watched him growing up," said Goldschmidt when asked after the game about Helton. "I guess I knew of him more than actually seeing him play until I got called up, but he's just such a good hitter. He hits for average, he hits for power. He's just consistent. Him being a left-handed hitter, as a righty it's a little different, but you definitely admire the way he plays the game. He always has good, quality at-bats, just a smart baseball player. You try to emulate that."
Barry M. Bloom is national reporter for MLB.com and writes an MLBlog, Boomskie on Baseball. Follow @boomskie on Twitter. This story was not subject to the approval of Major League Baseball or its clubs.