Ramos sets longest streak behind plate in '13
Ramos sets longest streak behind plate in '13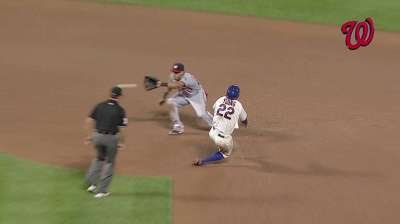 WASHINGTON -- Wilson Ramos made his 23rd consecutive start Sunday against the Phillies, the longest streak by any Major League catcher this season. Yadier Molina started 22 straight games for the Cardinals early in the season.
The feat is particularly impressive considering Ramos' recent injury history. The 26-year-old was out for nearly the entire 2012 season with a torn anterior cruciate ligament in his right knee. He also missed 58 games in the first half of this season, twice landing on the disabled list with a strained left hamstring.
While he was not trying to break any records, Ramos said that the streak is a good sign that he is both playing well and staying healthy.
"It's not easy," Ramos said. "It's not easy catching 22 games in a row. That made me feel good because now I know my knee and hamstring is good."
The Major League record for consecutive starts at catcher is 312, set by Frankie Hayes in the 1940s. When told of that record and asked if he would like to catch it, Ramos smiled and shook his head.
"Not for me," he said. "After today, I may rest."
Tom Schad is an associate reporter for MLB.com. This story was not subject to the approval of Major League Baseball or its clubs.