Rangers fall to A's, drop 6 1/2 games back in West
Rangers fall to A's, drop 6 1/2 games back in West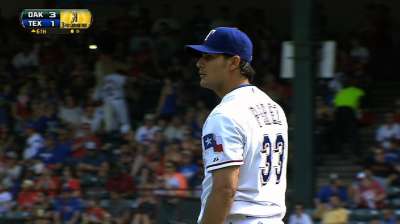 ARLINGTON -- Rangers manager Ron Washington was desperate for a win Sunday. He wasn't worried about where the club stood in the postseason hunt, Washington just wanted to end a rough six-game homestand with a victory.
Martin Perez bounced back and performed well enough to make Washington's wish come true, but the offense remained ineffective with runners in scoring position in a 5-1 loss to the A's at Rangers Ballpark.
"I'm not sure what's going on," Washington said on the offense. "I've never witnessed it before. You can have days that don't go right, but today we left 10 on. Opportunities were there again, we just didn't cash them in."
It's the first winless homestand of six or more games in franchise history, with sweeps by the Pirates and A's. Texas lost the season series, 10-9, and trail the A's by a season-high 6 1/2 games in the American League West, losing 10 games in the standings since Aug. 24. Texas, which opens a four-game set at Tampa Bay on Monday, is tied with the Rays atop the AL Wild Card standings.
"I'm disappointed," Washington said. "I certainly expected us to respond better. But they outpitched us, they certainly outhit us, they punched the ball out of the ballpark and they outscored us."
The Rangers went 1-for-10 with runners in scoring position. The only hit came on a two-out RBI single from A.J. Pierzynski in the first. The club is batting .225 (29-for-129) with runners in that situation over the last 15 games.
Texas was held without a home run on the homestand, the longest streak at Rangers Ballpark. Despite 10 hits, the club stranded 10 runners. Tommy Milone, who made a spot start for the ill Jarrod Parker, allowed just a run in five innings to earn his first career win against the Rangers. He had allowed six earned runs in two previous starts against the Rangers this season.
"I don't know that we could've asked for much more than that," A's manager Bob Melvin said. "Certainly you come in here and you want to try to at least take the series, but once you win two games, you want to get greedy. Things pop up before the game today, but Tommy Milone, that was … he's pitched some great games for us, but he's pitched once in 14 days and has to go up against that lineup and in this ballpark and gives us five innings and one run. That was pretty spectacular."
Jim Adduci made his fifth career start and was the most effective batter with three singles, yet he never scored. Adduci's final hit gave the Rangers runners at first and second with one out in the sixth, but pinch-hitters David Murphy and Leonys Martin couldn't drive the runners home. Washington took Joey Butler, who went 1-for-2 on 17 pitches, out for Murphy, who flied out to center field and has struggled all season.
"I thought Murph could go up there and with one swing of the bat make a difference," Washington said. "He's struggling now, but still even a squirrel finds a nut when he comes out of the tree every now and then. I believe in Murph and thought maybe he might catch something. It didn't happen."
The A's went 0-for-6 with runners in scoring position, but they relied on three home runs to produce four of their five runs. Perez allowed a solo shot to Josh Donaldson with two outs in the first that gave Oakland an early 2-0 lead. The Rangers did not lead in any of the six games on the homestand. Perez gave up a solo home run in the third to Chris Young, who entered the game hitting .201. That put the A's up, 3-1.
Perez gave the Rangers a chance, allowing three runs in 6 1/3 innings in a quality start. He worked his way around runners on second and third with no outs in the fourth to keep Texas within two runs. It's the first loss for Perez in a quality start and he's now lost consecutive starts.
"I feel great," Perez said. "I'm just trying to do my job. We didn't have good results, but it's a part of the game. We fought and couldn't get the win, but we have to come back tomorrow in Tampa and see what happens."
The remainder of the 42,980 fans in the attendance voiced their displeasure at the end of the game, as they've seen the Rangers match their longest losing streak at Rangers Ballpark at seven games. They've dropped five straight series, and Texas has trailed at the end of 34 consecutive innings dating to Wednesday against Pittsburgh.
"You see here at home and hear our fans boo, and I don't blame them," Rangers general manager Jon Daniels said. "It's been some ugly baseball, but I can tell you these guys are hurting just as much and just want to get it done."
Even with this recent slump, the Rangers are one of six AL teams with a legitimate shot at winning one of the two Wild Card spots. Along with their series against the Rays, the Rangers will travel to Kansas City and control their own destiny atop the Wild Card.
"Right now we're not getting it done, and we need to turn it around," Daniels said. "We're going to learn something about all of us. We're going to learn something about our guys, we're going to learn something about us as a group. It should be a big challenge on the road, but for some reason, we've seem to be better on the road. I don't think there's anything to that, but who knows. Maybe that'll spark us this week."
Master Tesfatsion is an associate reporter for MLB.com. This story was not subject to the approval of Major League Baseball or its clubs.