Reliever Downs pitching through the pain
Reliever Downs pitching through the pain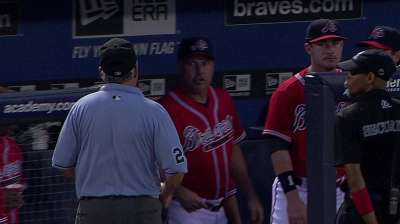 ATLANTA -- Reliever Scott Downs will continue providing the Braves with a veteran lefty arm out of the bullpen, even though the pain in the fractured ring finger of his non-throwing hand may not fully subside until after the season. Downs missed just under a week of action after he took a line drive off his glove in the sixth inning of the Braves' Sept. 7 loss to the Phillies.
"I've got a brace that I put in my glove, but I can still feel it," Downs said. "It's not as bad as it was when I first did it. The swelling has gone down, so it's just a matter of what I can tolerate. It feels fine."
Downs stumbled in his return to the mound on Friday night, when he entered with two outs and a runner on second in the eighth inning of a tie game. San Diego pinch-hitter Logan Forsythe stepped in and took a 2-2 curveball into center field to push across the game-winning run, saddling reliever David Carpenter with the loss.
"When you take six days off -- when you take any days off, really -- you don't know how you're going to do, but I felt good out there," Downs said. "I made some good pitches and then made one bad one where he got enough on it."
Eric Single is an associate reporter for MLB.com. This story was not subject to the approval of Major League Baseball or its clubs.