A's stretch lead to 6 1/2 with sweep of Rangers
A's stretch lead to 6 1/2 with sweep of Rangers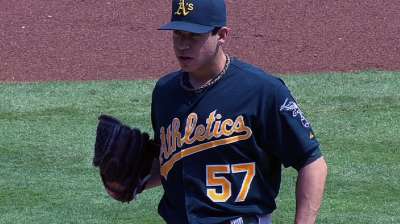 ARLINGTON -- The A's are one giant step closer to solidifying their second consecutive American League West title after putting the final touches on a decisive three-game sweep of the Rangers on Sunday afternoon.
Their 5-1 victory at Rangers Ballpark pushed them a season-high 6 1/2 games ahead of Texas in the division, narrowing their magic number to eight with 13 games to play.
Yet the A's are still playing coy. Win for the day and add 'em up at the end, says manager Bob Melvin. So far, they're up to 88 in the win column, third-most in the Majors.
"It's a good lead, but we can't pay too much attention to the standings right now," said Josh Donaldson. "We don't want to get too comfortable. We want to continue steadily getting better, as we have. Hopefully that takes us to where we want to go."
For now, the A's get to go home and welcome in the Angels and Twins, both sporting sub.-500 records, for seven games. They've won five straight and 16 of their last 20, their latest victory securing a season series win over the Rangers for just the third time in the last nine years.
Texas, which once led the division by as many as 7 1/2 games, is tied with Tampa Bay for the top AL Wild Card spot, having lost 12 of its last 15 contests -- even after catching more than one break Sunday.
The Rangers first learned that a red-hot Yoenis Cespedes, batting .373 in September, was scratched from the Oakland lineup because of a shoulder injury. That was before the even bigger news was revealed: A's rightyJarrod Parker, unbeaten in his last 19 starts, wouldn't be starting as planned.
Sidelined by a stomach virus, Parker was replaced by Tommy Milone, winless in five career starts against the Rangers. He got the notice a mere hour before first pitch. And he was every bit of excellent.
Making his first start since Aug. 27, Milone allowed just one run in the first but nothing more through five, stranding six baserunners along the way. The lefty -- tagged for 12 runs on 17 hits in a combined nine innings in his previous two starts against the Rangers this year -- scattered just five hits, walking one and striking out five before handing the ball to the bullpen.
"I don't know that we could've asked for much more than that," said Melvin. "Certainly you come in here and you want to try to at least take the series, but once you win two games, you want to get greedy. Things pop up before the game today, but Tommy Milone … he's pitched some great games for us, but he's pitched once in 14 days and has to go up against that lineup and in this ballpark and gives us five innings and one run. That was pretty spectacular."
"By the time I officially heard, it was just get ready and go," Milone said. "Sweeping a team like Texas is always big, no matter if it's this late in the season or early in the season. We're definitely grateful for it, and it obviously shows you how we've been playing. Obviously I wanted to step up and help the team out, and I felt like I was able to do that today."
Then the relievers did their job, as did the offense.
The A's needed only a pair of homers off starter Martin Perez -- a two-run shot from Donaldson in the first and a solo shot off the bat of Chris Young in the third -- to put away the Rangers, who outhit the A's, 10-8, but went just 1-for-10 with runners in scoring position.
With Josh Reddick's two-run blast in the ninth, Oakland has 55 home runs over the last 36 games, which leads the Majors.
"I'm disappointed," said Rangers manager Ron Washington. "I certainly expected us to respond better. But they outpitched us, they certainly outhit us, they punched the ball out of the ballpark and they outscored us.
"You've just got to give Oakland credit. They came up here and beat us soundly in every phase of the game."
That's quite a statement, but no bigger than the one the A's made in the Lone Star State this weekend.
"You can call it whatever we want. We came in and won the games," Donaldson said. "That was our intention and we accomplished our goal. Great baseball all around for our team."
"It's exciting to play these guys the way we have over the last couple series," added Jed Lowrie. "It's nice to walk away from a series like this and have the sweep. It's great for our confidence, but we need to continue to keep our nose down and finish strong."
Jane Lee is a reporter for MLB.com. This story was not subject to the approval of Major League Baseball or its clubs.