De Fratus not intimidated by bases-loaded jams
De Fratus not intimidated by bases-loaded jams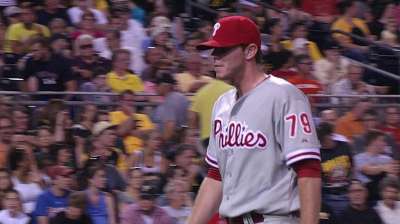 WASHINGTON -- When Phillies right-hander Justin De Fratus entered Saturday night's game in the seventh inning, the Nationals Park crowd was the loudest he had ever heard it, except for when Washington clinched a division title against Philadelphia last season. The Nats, battling for a postseason spot, trailed 5-1 but had the bases loaded with no outs, and the fans sensed a comeback.
De Fratus, however, was not intimidated. Inheriting bases-loaded situations has become something of a specialty for the 25-year-old this season, and he always reminds himself, "Hey, this is cool. Not many people get to experience this."
"You don't shy away from that kind of stuff. You just embrace it," De Fratus said. "It's not like saying, 'Oh, bring it on.' I'm not trying to be a tough guy. But you just embrace it. I can't change it, so, OK, it's more laid back."
Saturday's eventual 5-4 win marked the seventh time in De Fratus' 52 appearances that he has entered with the bases loaded. The rest of the team has combined for 12 such games, and no other Phillies pitcher has more than three.
He easily leads the team with 47 inherited runners, a mark that ties him for 11th in the Majors, although he has fewer appearances than everyone ahead of him on the list.
"I don't treat them any differently," De Fratus said of those dangerous spots. "And what is there to be afraid of? Why is that scary? The way I look at it is I'm not facing death -- it's just bases loaded, no outs. Big deal."
While De Fratus has a 4.39 ERA in 41 innings, he has handled his most perilous assignments admirably. Of the 21 runners he has inherited in bases-loaded situations, he has permitted only six to score.
On Saturday, he got the red-hot Jayson Werth to hit a grounder to third for a forceout at the plate before Ian Desmond scored one run with a sacrifice fly. Interim manager Ryne Sandberg then went to lefty Cesar Jimenez to face Bryce Harper.
"De Fratus, it seems like he's been put in that position all year long. It really does," Sandberg said. "Bases loaded, no outs. Bases loaded, one out. And he's been effective with the stuff that he has."
De Fratus said he goes into those situations with the goal of minimizing damage. While he doesn't want to let any of the previous pitcher's runs score, his focus is to escape with the lead if the Phillies have it. He doesn't try to change his approach, since his aim is always to get ground balls and strikeouts.
It's been a new sort of role for De Fratus, who had never entered with the bases loaded in 18 big league games before his season. He also doesn't recall doing it much in the Minors, where he spent time as a closer.
"Maybe it's just something I've responded to well," De Fratus said. "If that's what I do to help this team, that's cool. It works just fine for me. I'll embrace it every time. I understand I'm not going to succeed every time, but you're either the hero or the goat there. Why not? Just have fun."
Andrew Simon is a reporter for MLB.com. Follow him on Twitter @HitTheCutoff. This story was not subject to the approval of Major League Baseball or its clubs.