Retiring Kotsay reflects on career
Retiring Kotsay reflects on career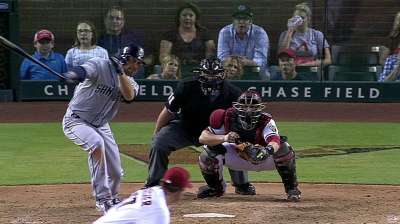 ATLANTA -- When Padres outfielder Mark Kotsay retires at the end of the season, he'll walk away with a lot more than nearly 1,800 hits amassed over a 17-year career with seven teams.
"I'm walking away from the game with the respect of every teammate I've ever played with. That's all I've ever wanted when I was done," Kotsay said Sunday.
Kotsay, 37, said there was no precise moment when he decided that this would be his final season, but acknowledged that the daily preparation is much more difficult than when he was a younger player.
"At the end of the season, you evaluate how you feel moving forward. This year, I've just felt the time is right," Kotsay said. "Mentally and physically, the grind of the season has become more difficult. I'm at peace where I'm at in my life."
Kotsay entered Sunday's game against the Braves hitting .190 in 142 at-bats. He hit .259 coming off the bench for the Padres last season in 143 at-bats.
For his career, Kotsay has a .276/.332/405 line with the Marlins, A's, White Sox, Red Sox, Braves and Brewers, as well as two stints with the Padres (2001-03, 2012-13).
Kotsay's manager, Bud Black, will be sorry to see him go, though he admitted that Kotsay's contributions rated well beyond statistical measure.
"His experience and personality made a huge impact on our group ... not just on players but also for the coaches and me," Black said. "He was a great sounding board for me. He asked me a lot of questions and I asked him a lot, getting the players' perspective.
"He did a great job inside the clubhouse with the younger guys and the older players, sending the right message. With Kots, I always trusted that the right message was being delivered."
Kotsay, who has 1,781 career hits, might have had more if not for surgeries on his back in 2003 and in '09. But he stopped long ago wondering what might have been.
"Even after my second back surgery, I've extended [my playing career] out a long time," he said.
After Sunday's game, the Padres will have 14 games remaining. That's 14 more times Kotsay will put on and pull off a Major League uniform.
"I'll miss the camaraderie of being around the guys," he said. "I'll miss the competition and pure joy that comes with winning as a team."
Corey Brock is a reporter for MLB.com. Keep track of @FollowThePadres on Twitter. This story was not subject to the approval of Major League Baseball or its clubs.