Chisenhall getting back on track at right time
Chisenhall getting back on track at right time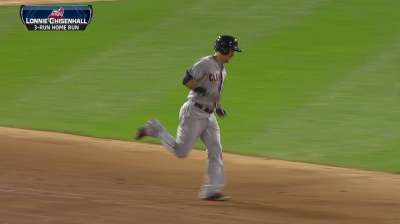 CHICAGO -- Lonnie Chisenhall has struggled at the plate this season, particularly in the second half. But he seems to have found his swing of late, and he says it couldn't come at a better time.
"I want to be playing well and I want the team to be playing well," Chisenhall said. "We're in a good situation right now. We've got like two weeks left and we're close to making the playoffs, and that's where we want to be. You've got to be hot at the right time."
Chisenhall -- who has been used as a platoon player with Mike Aviles at third base -- went 2-for-4 with a three-run homer in the Tribe's 8-1 win over the White Sox on Saturday night, and going into Sunday's series finale with Chicago, he was 8-for-23 (.348) for the month of September.
"The past two or three weeks, I've felt better in the box," said Chisenhall, who is hitting .229. "To do something to help our team win or propel us forward, [the homer Saturday] was a big hit for me. … It's been frustrating for me this year. I made some small adjustments at the plate that haven't worked, but right now I feel like I have something good going and I'm going to try to continue to do that."
Tribe manager Terry Francona said that he sees a bright future ahead for the 24-year-old.
"He sits down there in the eight- or nine-hole, and if you get a three-run homer out of that spot, that's huge," Francona said. "We're trying to mix winning and developing young players, and sometimes he gets platooned with a little bit, but I see a day when he's out there every day. It may not be today or tomorrow, but we're trying to win and develop at the same time."
Manny Randhawa is an associate reporter for MLB.com. This story was not subject to the approval of Major League Baseball or its clubs.