Reds to activate Cueto for series opener vs. Astros
Reds to activate Cueto for series opener vs. Astros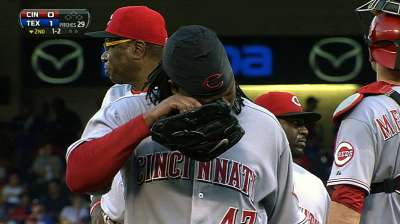 MILWAUKEE -- The Reds will get their ace back in the midst of a tight National League playoff race.
Reds manager Dusty Baker announced Sunday that Johnny Cueto will return from the disabled list Monday to start the series opener against the Astros in Houston.
Cueto has been on the DL since June 29 with a strained right lat muscle, his third trip to the DL this season.
Baker confirmed Sunday what Cueto said earlier in the day.
"I guess he is pitching tomorrow," Baker said. "If he said it, Johnny don't lie."
Cueto has made nine starts this season between DL stints, and he threw two live BP sessions, the last eliciting great reviews from Baker.
Cueto went 19-9 in 2012 with a 2.78 ERA in 217 innings, and he holds a 4-2 record and 3.33 ERA in 48 2/3 innings this season.
"He appears relatively ready from what we've seen," Baker said. "We'll see what we can get out of him. It's worth a try, it's worth the effort because he's Johnny Cueto. The more we get out of him tomorrow, the more we get out of him the next time, and who knows where he's going to be ready come playoff time."
Early indications were that the Reds would use Cueto out of the bullpen rather than as a starter in his return, but a back injury has forced Tony Cingrani to miss a start, leaving Monday open for Cueto.
Baker said there would be a pitch count on his 27-year-old right-hander, but he did not specify how high it would be. Cueto threw 60 pitches in a live batting practice session on Wednesday.
"It's kind of like a Spring Training game to get him ready," Baker said. "That gives us a tremendous boost much like what [outfielder Ryan] Ludwick gave us. And there's a chance we could get [reliever Sean] Marshall back. We're just trying to get our troops back together, being lined up."
Kevin Massoth is an associate reporter for MLB.com. This story was not subject to the approval of Major League Baseball or its clubs.