Tribe remains hot on heels of AL Wild Card leaders
Tribe remains hot on heels of AL Wild Card leaders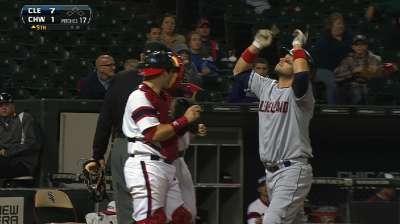 CHICAGO -- By the time the Indians got under way in Sunday's series finale against the White Sox following a four-hour, 23-minute rain delay, both teams they were chasing in the American League Wild Card race had already lost.
The Tribe took full advantage behind a solid start by Zach McAllister and homers from Matt Carson, Nick Swisher, and Asdrubal Cabrera, sweeping the White Sox with a 7-1 victory at U.S. Cellular Field. With the win, Cleveland moved to a half-game behind both Texas and Tampa Bay for the top spot in the AL Wild Card standings.
McAllister tossed 6 2/3 innings, allowing a run on six hits while walking one and striking out five. The right-hander's effort continued the Tribe's run of dominant starting pitching in the series. Over the four games in Chicago, the starting staff posted a 1.55 ERA (four earned runs in 23 2/3 innings).
"I just felt like I was pretty aggressive with my fastball for the most part," McAllister said. "I was able to locate it and keep them off balance a little bit. At the end, I kind of over-used my fastball a little bit, and they were getting some hits. But, for the most part, I was able to have some good rhythm out there."
"I thought Zach's stuff today was probably as good as we've seen," said Indians manager Terry Francona. "He had velocity with his fastball. It had some power to it, but he commanded it in and out very well. He wasn't just throwing. He was pitching with good velocity and it opened up the plate for his breaking ball."
The right-hander rebounded from three consecutive starts in which he gave up at least four runs. He said the difference Sunday was that he stayed away from the big inning, escaping a key jam in the sixth when Chicago put two runners on with one out.
"I think my last couple of starts I had one bad inning that really hurt me, and today I was able to minimize that," McAllister said. "It was, I think, the [sixth] inning when they had runners at second and third, and I was able to minimize that damage. That was a big turning point for me right there in the game."
Carson, making his first start with the Indians after being called up from Triple-A Columbus on Aug. 28, drove in Cleveland's first two runs with an RBI single in the second and a solo homer to right-center off of White Sox starter Chris Sale in the fifth. He tied a career high with three hits in the game.
"[Carson] is excited to do whatever he's asked to do," Francona said. "He got a couple of big, big hits for us today."
Swisher belted the first pitch he saw from Sale in the sixth into the left-field seats to make it 3-0. Following back-to-back singles by Ryan Raburn and Carlos Santana, Cabrera hit his third homer of the series, a three-run shot to left to break the game open. It was also his fifth homer in his last nine games.
Swisher added a solo shot in the ninth off reliever Ramon Troncoso to reach 20 homers for the ninth straight season and tie Mark Teixeira for the Major League record (13) for homering from both sides of the plate in one game.
"It just makes me smile," Swisher said of tying the record. "All that individual stuff is cool, but I think just the way we're playing right now is really the highlight of everything. … We've got a chance to make it to the playoffs."
Sale said he just wasn't his usual self against the Tribe.
"I [threw] a changeup up to Cabrera and you obviously can't do that to a hitter of his caliber," Sale said. "I got a 3-2 count to Carson and obviously, more times than not I'm coming in with a fastball there. They just put some good swings on some bad pitches and they put some good swings on good pitches. That's kind of how it shook out."
The Tribe's sweep of Chicago was its third four-game sweep of the White Sox this season, marking the first time in the 113-year history of the franchise that it completed three four-game sweeps of a single opponent in the same season.
It also marked the first time the feat has been accomplished in the Major Leagues since the Dodgers swept three four-game sets against the Mets in 1963.
The Indians have also won a franchise-record 12 consecutive games against the White Sox this season, and eight straight at U.S. Cellular Field.
With the rain delay pushing the game into the night, the Tribe won't arrive at the next stop on its road trip -- Kansas City -- until late Sunday night or early Monday morning.
But Swisher said there's no room for excuses in a race as tight as the Wild Card chase.
"We're going to get into Kansas City late tonight," Swisher said. "But it's no excuses at this point.
"We've put ourselves in a great spot, and we're going to do our part in trying to finish it off."
Manny Randhawa is an associate reporter for MLB.com. This story was not subject to the approval of Major League Baseball or its clubs.