Sale, rain unable to cool Tribe's hot bats
Sale, rain unable to cool Tribe's hot bats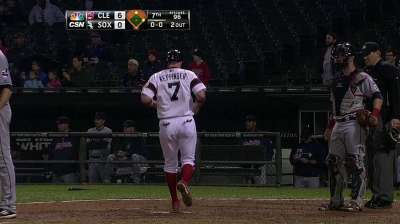 CHICAGO -- A few loud ovations erupted from the crowd in attendance for the series finale between the White Sox and Indians on Sunday at U.S. Cellular Field.
Those boisterous cheers actually came before the Indians' 7-1 victory over the White Sox even began, as the rain-soaked fans were celebrating the Bears' comeback to upend the Vikings at nearby Soldier Field.
It was a Jay Cutler-driven winning drive that took place about 2 1/2 hours prior to Chris Sale's first pitch at 5:33 p.m. CT.
And once the game began, the Indians did what they have done all season: beat up on the White Sox and their staff ace.
The rain delay covered four hours and 23 minutes, with both sides holding out because of the importance of this game to the Indians (81-68) in the American League Wild Card standings and the two teams not having a common off-day over the final two weeks. Cleveland's 12th straight victory over the White Sox (58-91), improving its head-to-head mark to 15-2 in 2013, moved the Indians to within a half-game of both the Rangers and the Rays, who lost earlier in the day.
Both teams understood that the waiting was the hardest part. Cleveland simply played far better after the delay.
"You try to stay ready because you don't know when you are going to start," said White Sox first baseman Adam Dunn, who had one of the team's seven hits. "It's tough on Chris because you hear so many different things. He gets ready and then doesn't need to get ready. It happened to them, too. They obviously didn't have a problem with it."
"If anything, it should have helped me. A little bit more time to prepare, a little bit more time to get ready," Sale said. "It just didn't work out in my favor."
Sale (11-13) reached 200 innings for the season with Mike Aviles' flyout to open the fifth. He also fanned seven, giving him 214 for the season and leaving him two short of passing Gary Peters for the single-season franchise record by a southpaw set at 215 in 1967.
After those personal milestones, it was pretty much a lost day.
"Probably a little glass is half empty right now," said White Sox manager Robin Ventura of Sale's individual accomplishments, after praising his southpaw.
"That's the kind of stuff you look at at the end of the year," Sale said. "Stuff you talk about with friends and family."
Matt Carson, who had three hits, singled home Carlos Santana in the second and then homered in the fifth. Nick Swisher went deep to open the sixth, and Asdrubal Cabrera padded the lead with a three-run shot down the left-field line in that same inning. Swisher added another homer in the ninth off of Ramon Troncoso, giving him five this year against his former team.
Over 5 2/3 innings and 110 pitches, Sale allowed six runs on nine hits to fall to 0-4 this season against the Indians. Sale has yielded 22 earned runs over 23 innings against Cleveland, along with issuing 26 of his 44 walks. He has given up 47 earned runs in 178 1/3 innings against everyone else in baseball.
"There's not much you can do when someone is on to you and kind of has your number," said Sale of Cleveland's dominance. "You just have to try to fight through that and battle through it."
"He's tough on everybody," said Cleveland manager Terry Francona of Sale. "He looked like he was pretty amped up early, and he threw the ball by us in the first inning. And then he made a couple of mistakes, and fortunately we hit them."
Zach McAllister (8-9) held the White Sox to one run on six hits in 6 2/3 innings, including two singles from rookie Marcus Semien, a Leury Garcia double in the sixth and Josh Phegley's run-scoring single in the seventh.
Chicago lost its sixth straight and dropped to 2-15 in its last 17 games. And for the first time in the history of the Indians franchise, they swept three four-game series from a team in the same season. Sunday's loss was the White Sox sixth straight, during which they have been outscored, 42-7.
"We come in every game trying to win it and you know they outplayed us for four games," Dunn said. "You can take getting beat, but when they pitch better and they hit better. ... They just outplay you."
For the White Sox, this long rain delay wasn't worth the wait.
This waiting period did pay off for the fans who had tickets to Sunday's game. They will receive a complimentary ticket to a home game in April of 2014, excluding Opening Day and the series against the Red Sox (April 15-17), because of the rain delay.
"From a competitive balance standpoint and where the standings are right now, it was important for baseball that we played today's game," said Brooks Boyer, White Sox senior vice president of sales and marketing, in a statement. "We appreciate the patience of our fans, and the offer of a free ticket to a game next April is the least we could do after they waited out the long delay."
Scott Merkin is a reporter for MLB.com. Read his blog, Merk's Works, and follow him on Twitter @scottmerkin. This story was not subject to the approval of Major League Baseball or its clubs.