Tigers' offense struggling to score recently
Tigers' offense struggling to score recently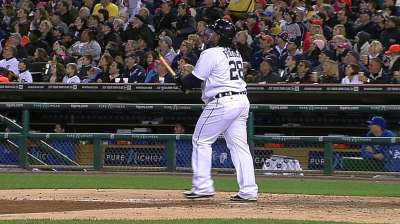 DETROIT -- The Tigers have been held to three runs or fewer in eight of their 12 games this month. In four of those eight games, Detroit has outhit its opponent. While it's an oddity, it raises some concern, as the Tigers make their push for the postseason.
"Some of that, overall, is our lack of speed," manager Jim Leyland said. "There was the game in Pittsburgh, when we got four hits in one inning and didn't score a run. So some of it depends who is on the bases and stuff like that, that's some of it. Some of it is the pitching like [Royals starter Ervin] Santana was [on Saturday] night."
The Tigers have been shut out 10 times this season, after being blanked only two times last year. Entering Sunday's game against the Royals, the Tigers have hit five home runs in September, which ranks last in the Majors. Alex Avila added to that total with a homer in the second inning of Sunday's game.
"That's why I said all along we normally score when we hit doubles and hit it over the fence," Leyland said.
Bobby Nightengale is an associate reporter for MLB.com. This story was not subject to the approval of Major League Baseball or its clubs.