Reds lose ground in division race as 'pen falters
Reds lose ground in division race as 'pen falters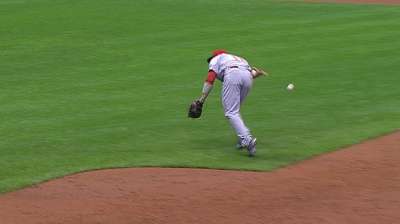 MILWAUKEE -- The Reds were sitting pretty with less than three innings to play on Sunday, firmly grasping a 5-1 lead against a Brewers offense that had done essentially nothing through six innings against starter Bronson Arroyo.
Then the wheels fell off.
Late walks turned into late Milwaukee runs, and Carlos Gomez took the air out of the Reds' dugout with a game-saving catch that elicited déjà vu for the visitors before Sean Halton sent them packing with a walk-off solo home run and a knot in their stomachs.
The result was a 6-5 Reds loss, their fourth in the last six games against the Cubs and Brewers -- each battling to stay out of the National League Central-division cellar, while the Reds are lobbying for a playoff position.
"That's probably as crushing of a defeat as we've had all year," Arroyo said.
The Reds were in position to keep pace in the NL Central, but instead, Cincinnati is now 3 1/2 games behind the Pirates and the Cardinals, who both won on Sunday. Meanwhile, the Nationals closed to within 4 1/2 games of the Reds for the second NL Wild Card spot.
"Boy, that really hurts big time," Reds manager Dusty Baker said. "You've got to feel the sting today and get over it tomorrow because we've got another series tomorrow. This does hurt. It really hurts."
The Reds start a three-game series with the Astros on Monday before a pivotal three-game weekend set with the Pirates to conclude Cincinnati's final road trip of the season.
But they were just happy to escape Miller Park on Sunday.
After taking five of the season's first six meetings against the Brewers, the Reds dropped eight of the final 13 to their NL Central rivals, including six of 10 in Milwaukee.
On Aug. 16, the Reds lost a game at Miller Park when Jonathan Lucroy launched a two-run walk-off home run against closer Aroldis Chapman. On July 9, Cincinnati came up just short when Gomez leaped to take away what would have been a go-ahead home run from Joey Votto for the final out.
Gomez was at it again on Sunday.
After the Brewers tied the game at 5 with three runs in the eighth inning, Jay Bruce sent a ninth-inning Jim Henderson pitch over Gomez's head in center field that looked like it might have carried over the center-field wall for a three-run home run. But Gomez had other plans as he jumped high to grab the ball before crashing into the wall, much like he did more than two months ago to Votto.
It was not clear if the ball would have carried over the wall had it eluded Gomez, but if it was on its way over, it would be the fifth robbed home run for Gomez this year.
"That's pretty good," Gomez said with a big smile. "It's not only five home runs, too, it's the situation that I save that run. That means a lot to us and the pitcher has more confidence in us because they know they have the best over there."
Bruce was not sure if his ball was headed over the fence or not.
"I knew I didn't kill it," Bruce said. "I knew it was going to be a close play. They were playing no doubles and he was there. Off the bat I didn't know. I don't ever really know to be honest with you. You can say it was going out, it wasn't going out."
"It was an out."
Gomez's catch set up Halton's heroics in the bottom half of the inning. With one out and the bases empty, Halton lifted a Zach Duke changeup over the center-field wall for his third career home run and first of the walk-off sort.
"I don't think there's a better feeling," Halton said. "Growing up wanting to be a baseball player and a Major Leaguer, that's the top of the mountain, I think. Especially against a team that's playing well, in the hunt. We've been playing that spoiler role lately and we hope to continue that the next couple of weeks."
Halton's homer capped a Brewers' rally that saw two walked batters and one hit batter cross home plate in the seventh and eighth innings.
Reds relievers Sam LeCure and Manny Parra put the first two runners on in the eighth via a walk and hit batter, respectively, and Jean Segura brought them in two pitches later on a triple to the right-center field gap against J.J. Hoover. Bruce slid for Segura's line drive, which split perfectly between him and center fielder Shin-Soo Choo, but the ball bounced out of his glove far enough for Segura to motor to third base.
Lucroy then lifted a Hoover fastball to right field, bringing home Segura to tie the game at 5, and set up Halton's heroics.
The late Milwaukee surge wasted a quality start from Arroyo, who finished with 6 1/3 innings, allowing two earned runs on three hits. Arroyo did show rare control issues in the seventh when he walked the bases loaded before giving way to the bullpen. Arroyo set a season-high with four walks, two more than his previous eight starts combined.
"I walked more guys today than I gave up hits, which is terrible," Arroyo said. "That just means you're not being aggressive enough in the strike zone. Hit a few guys, walk some guys. You give up too many free passes, you talk about it all the time, sometimes it doesn't bite you in the butt when it's a 5-1 game, but today it did. That's exactly why command is key."
Todd Frazier helped the Reds build an early lead off Brewers starter Yovani Gallardo with an RBI single and his 16th home run, a solo shot in the sixth inning, but the Reds could not extend their 5-1 cushion.
"You want to get out of slam reach, we were saying that all game," Baker said. "And then you want to get out of three-run homer reach. We didn't get out of reach."
"Every loss is tough," Bruce said. "Especially as you wind down the season and we're looking to make a push. One mistake here or there, one missed opportunity. Baseball's such a crazy game that it's hard to put your finger on one thing. We're busting our [butts] out here. It's not always going to go our way, but 12 or 13 games left and we still ... we're fine."
Kevin Massoth is an associate reporter for MLB.com. This story was not subject to the approval of Major League Baseball or its clubs.