Royals still marveling at Perez's big play
Royals still marveling at Perez's big play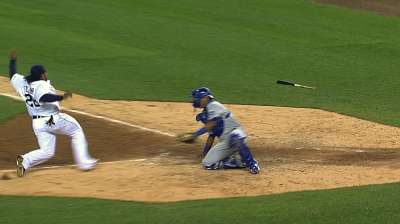 DETROIT -- Not surprisingly, the Royals were still buzzing on Sunday about one of the season's best plays -- the game-ender in Saturday night's 1-0 win over the Tigers.
The most amazing part, to most observers, was that catcher Salvador Perez, despite losing sight of the ball behind runner Prince Fielder, still was able to catch shortstop Alcides Escobar's relay from left fielder Alex Gordon.
"I lost the ball at one point, the ball was behind him and I didn't see it for a second," Perez said. "It was a short hop, I caught it and tagged him."
"From my angle, it didn't look nearly as difficult as it was," said Royals manager Ned Yost, an ex-catcher.
"Your instincts kind of take over there. You know that it's over there, you slide over, pick it up and then, boom - bam! That's one of those when you don't think, you just react."
Pitcher Greg Holland, backing up the play, saw how the ball disappeared from Perez's view.
"I was standing right behind Salvy, and I don't know how he picked that ball because it went right behind Fielder," Holland said. "For him to be able to lose the ball behind the baserunner and pick it and make the tag like that is pretty incredible."
All credit to Salvy," Escobar said. "Two good throws and one great play."
Dick Kaegel is a reporter for MLB.com. This story was not subject to the approval of Major League Baseball or its clubs.