Francisco likely unavailable three to four days
Francisco likely unavailable three to four days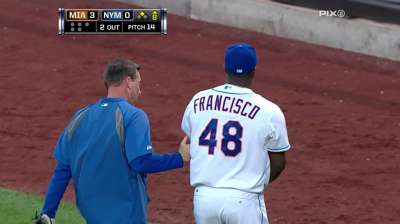 NEW YORK -- Mets manager Terry Collins said reliever Frank Francisco will likely be unavailable for three to four days after the right-hander took a comebacker off his hand in the first game of Saturday's doubleheader against the Marlins.
With one out in the eighth inning, Logan Morrison hit a line drive back up the middle that drilled Francisco in the pinkie area of his right hand. The right-hander managed to get the ball and throw over to first for the second out, but had to leave the game. He went for X-rays, which showed no broken bones.
But the contusion is going to keep him out of action for at least a few days. The spot where he was hit was still swollen when he arrived to the ballpark on Sunday morning. But Francisco said some of the pain has subsided.
"It doesn't hurt as much," Francisco said. "Last night, it was pumping. Now, it's only when I move it."
Francisco said he just has to "see and wait" to determine when he can get back in a game.
It's been a frustrating season for Francisco, who underwent surgery in the offseason to remove a bone spur from his elbow. Entering Spring Training, he was in line to be the Mets' closer for a second straight year, but had to go on the disabled list on March 31 with inflammation in his right elbow.
After a long rehab process, Francisco was finally activated on Sept. 7. He's made four appearances, allowing three runs on three hits over 2 2/3 innings.
Chris Iseman is an associate reporter for MLB.com. This story was not subject to the approval of Major League Baseball or its clubs.