Yost mulls how replay will work next season
Yost mulls how replay will work next season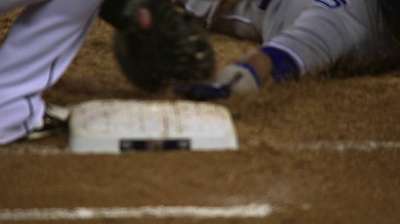 DETROIT -- Major League Baseball plans to give managers a certain number of flags to toss to bring up video reviews of disputed plays by umpires next year.
Manager Ned Yost figures Saturday night's play on which Emilio Bonifacio was picked off first base would bring out his flag. Bonifacio was ejected by the umpire for throwing his equipment after the call.
Yost raised an interesting point about what might happen on such a review next year.
"Say, obviously, he was safe and the umpire called him out and ejected him from the game," Yost said. "They come back and say, 'No, he was safe,' do they reinstate him into the game?"
Yost and others likely will bring up those types of questions at the annual Winter Meetings.
"Trust me," he said. "There are a lot of things."
Dick Kaegel is a reporter for MLB.com. This story was not subject to the approval of Major League Baseball or its clubs.