Byrd thrilled to contribute in postseason chase
Byrd thrilled to contribute in postseason chase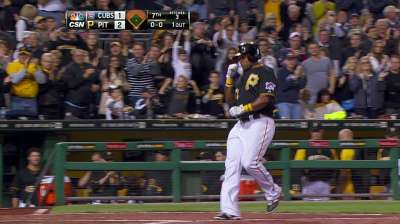 PITTSBURGH -- Outfielder Marlon Byrd relishes being involved in a pennant race.
"I was smelling the playoffs on my drive from New York here," said Byrd, who was acquired from the Mets on Aug. 27. "I've been close, but I've never been this close. Kind of in the lead this close to first, it's a different feeling here. These guys believe, they believed all year long, they believed the past two years and it's finally coming together this year. It's fun to be a part of, because this is a great group of guys, and they deserve it."
Byrd has hit safely in 14 of his 17 games with the Pirates, going 20-for-62 (.323) with two homers, including the game-winner in Saturday night's 2-1 win over the Cubs. He has 10 RBIs with the Bucs.
"The numbers speak for themselves," Pirates manager Clint Hurdle said of Byrd. "The numbers are real and we're in a pennant race, and he's hitting in the middle of the lineup. The plays he makes in right field, he's taking good angles, he's made a couple of good throws.
"He's a pro with a slow heartbeat, and I do think that he's been able to take a lot of whatever burdens that anybody might feed off. He's released some of that, and he's a grown man, he's 36 years old, and he's seen a lot and he's been through a lot. He welcomes that, and he shows up every day wanting to win and wanting to play and wanting to work."
George Von Benko is a contributor to MLB.com. This story was not subject to the approval of Major League Baseball or its clubs.